Click on the title to read the full article.

None of these services could top New York's Luggage Free, which seemed to grasp the concept that if you're paying for a premium service, you want premium service.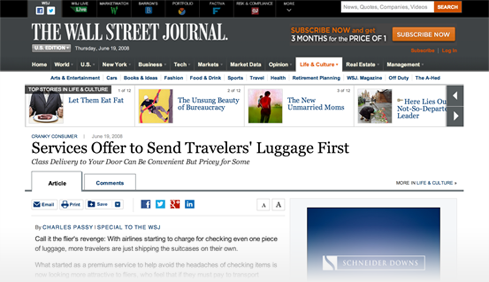 This was the only company to send a courier (not a third-party delivery service like FedEx or UPS) at a specific time (10 a.m. on a Tuesday morning). The suitcase was placed inside a large plastic bag for protection and then sent on its way with a carrier (the company uses a variety of services, including FedEx) for delivery that ended up being one day early. The service also came in cheaper ($120.75) than the rest.
"For us, it makes traveling a real pleasure instead of a chore," says Janet, a stay-at-home mom whose husband is a partner at a New York hedge fund company. Their bags will get home the same way: "They'll pick them up from the concierge after we leave." The Nisi family's only carry-ons? Wallets, a DVD player, and a magazine.
I have the world's worst luck with lost bags and I was determined not to endure another vacation without my belongings. Enter Luggage Free: I did some internet research and they were positively reviewed and listed as the most affordable.I shipped a 50 lb bag to Florida and they executed everything flawlessly.
"There's nothing better than going to the airport carrying only a book and a purse," said Barbara Pizik of Beverly Hills. "It's a fabulous feeling."
By comparison, Luggage Free, will charge you $5.57 per pound to ship bags door-to-door from the U.S. to the United Kingdom; in this case $278.50 for a 50-pound bag.
Co-founder Jeff Boyd has heard it all in terms of special requests. Some are practical – cruise ship passengers who want their formal clothes to arrive wrinkle-free, for instance. Others sound desperate, like the weekly requests from customers who want to "have their dog shipped."
A few days before you leave have your luggage – or, say, your golf clubs, stroller, surfboard, portfolio, or whatever bulky item you simply can't leave home without – picked up and delivered to your destination. It's all there when you arrive.
"Shipping the family luggage was a lifesaver," said Alan Gallanty, a Manhattan lawyer who used LuggageFree to send four golf bags and two big suitcases both ways on a trip with his wife and two young children to Florida during a snowstorm this winter. "The airport was an absolute madhouse, with people lined up out the doors and into the slush" to check bags.
To make summer traveling smoother, neutralize the problem before it begins. If luggage is a persistent problem, try shipping it in advance. More expensive services like… Luggage Free take care of the pesky details
These services are pricy — Jenn Enloe, a Luggage Free customer, paid $300 to send her bags ahead to Europe — but says it was worth it. "It just makes life so much easier," she said. "It takes a lot of the stress out of travel."
The least expensive quotes I found were from Luggage Free: $120 for second-day delivery, $66 for five-day ground. The other companies generally charged $158-$269 for overnight delivery; $81-$104 for four- or five-day ground shipment. Rates would undoubtedly vary depending on the specific mix of your shipment.
For the traveler who doesn't want to risk losing his bag (or who simply doesn't want to tote it)…Luggage Free delivers to all domestic and most international locations and offers the more personalized approach: it wraps suitcases in protective plastic before shipping, lets most customer select specific pick-up times, and will even pick up on weekends.
The companies put a fine point on making service pleasant and easy. Callers to Luggage Free are greeted on the first or second ring by another human, rather than an automated system. A 24-hour service lets travelers connect with a representative if they run into any hiccups.