The Luggage Free On Time Guarantee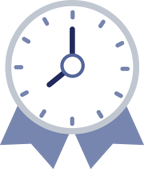 Every bag we ship is backed by the world's best money back
plus
$500, on-time guarantee – at no extra cost!
Money Back + $500 Guarantee
When you ship your luggage with us, we guarantee it will arrive on time or there will be no charge for your shipment. And we will also give you up to $500 to make it right. It's the best luggage shipping guarantee in the world, period!

If your bags do not arrive by end of day on your scheduled delivery date, barring a weather or customs delay, your baggage delivery will be free, and we will reimburse you up to $500. Our industry-leading guarantee is our way of saying you can count on us to get your luggage to your destination, on-time, every time.

The Details
Our guarantee applies to every luggage delivery we make both domestically and internationally, and is in effect the minute your bag is late. Our guarantee excludes delays beyond our control, including but not limited to acts of God (e.g. weather, natural disasters), mechanical failures, shipments containing prohibited items, or customs delays. Please see our terms for more information about our on-time guarantee.