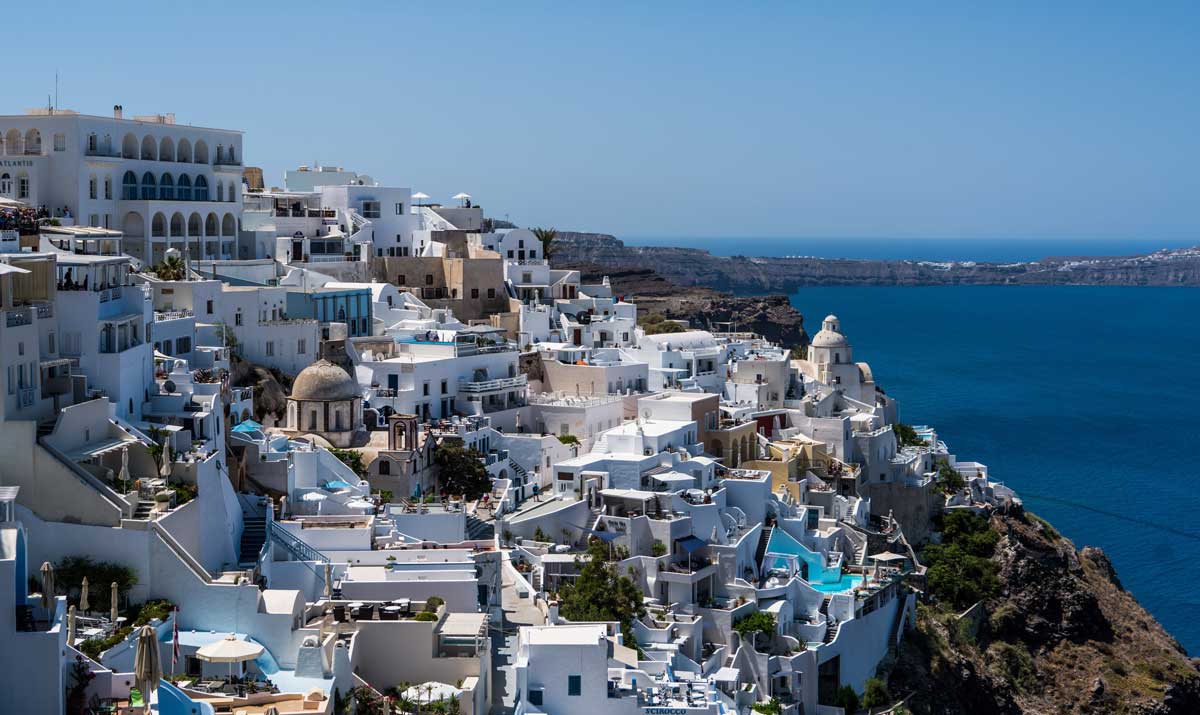 Posted February 6th, 2017
Let your love soar at these four dreamy destinations around the world.
Whether you're sparking the fire back into a relationship or celebrating a love that will never burn out, these four dreamy vacation destinations are rife with opportunities for couples to celebrate their bonds. From over-the-water bungalows and endless sunsets to historical nostalgia and even adventure, let your love run wild at these luxurious romantic vacation destinations.
Santorini
One of Greece's most visited islands in the Aegean Sea offers epic sunsets seal leisurely days of hitting the beach, sipping wine and lounging around over epic views of the water and neighboring caldera. When you think of Greece you undoubtedly have a picture of Santorini's white-washed buildings blending into its steep rocky terrain. Stroll its cobblestone streets while you lazily souvenir shop, or spend the day touring one of its many wineries and sipping local Asyrtiko. Adventurers can trek to its black sand and red sand volcanic beaches or hike the path to the runes of Ancient Thira, a settlement that dates back to 900 BC. One thing lovers must do is procure their favorite bottle of wine and grab a spot along the cliffs of Oia—this is prime sunset gazing territory, perfectly followed by fresh seafood in an adjacent taverna.
Paris
The saying rings true that Paris is the City of Love. The magic and romance of France's capital city are legendary. From stage, to screen to pages in classic and contemporary novels, you've seen its stories unveiled and have been seduced by its cobblestone streets, tree-lined boulevards and sidewalk cafes. The City of Light is the perfect spot for a proposal in the shadow of the Eiffel Tower, couples selfie in front of Sacre Cour or an arm-locked stroll sipping wine along the Seine. Lovers can even commune with the divine by visiting the Temple of Love in the middle of the lake in Bois de Vincennes, a public park on the eastern edge of the city.
Maldives
Pristine powdery white beaches, clear blue seas and no shortage of over-the-water bungalows make this island nation one of the world's most romantic vacation destinations. Honeymooners flock here for luxury experiences, sea-side couples massage treatments, meals in Michelin-starred restaurants and private plunge pools. When they're not canoodling, activities like snorkeling and diving bring the real life of the island into view.
San Miguel de Allende
While Mexico City offers many opportunities for couples to share their love, getting out of the metropolis and driving two hours north lands you in the pristine colonial town of San Miguel de Allende. The UNESCO World Heritage Site has welcomed visitors since the end of World War II, when U.S. veterans first began venturing around its cobblestone streets and ochre city walls with the goal of studying art in the picturesque town. A perfect destination for weddings, honeymoons and romantic vacations, this town offers everything from luxurious accommodations and world class spas to artfully appointed B&Bs. Spend the day exploring the city's galleries filled with works from local artisans and dining on food from notable chefs. You can even turn up the heat by venturing outside the city to local cavernous hot springs for the day.