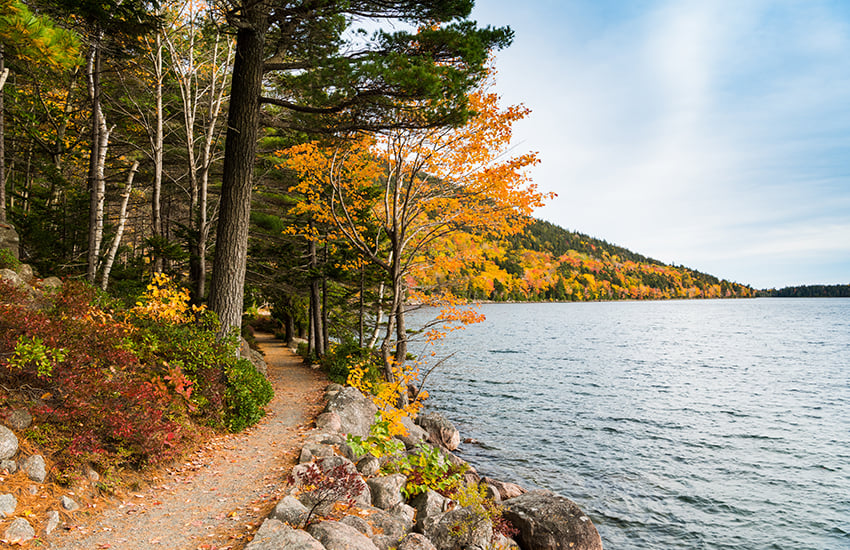 Posted September 29th, 2022
With a charming seashore setting and undeniable ambiance, Bar Harbor remains one of the most popular destinations in New England. And, once the first signs of fall begin to appear in and around the city, travelers have yet another reason to travel north for autumn. Whether it's hiking through Acadia National Park to soak in the autumn air or enjoying a private boat tour around the harbor, we've gathered all of the best things to do in Bar Harbor, Maine. 
The Best Things To Do In Bar Harbor 
If you're like us, you'll want to soak up those comfortable autumn temperatures for as long as you can. And one of the best ways to do that is to get out and spend some time in the great outdoors! If you're looking to spend some time on the water, opt for kayak rentals for the day or a narrated boat tour around the harbor.
The whale-watching season also runs from May to October, so you may be able to catch the tail end of that, too. No pun intended! 
Bar Harbor has quite a rich and interesting history. So, on an especially chilly day where exposure to the elements may not be quite as pleasurable, one of the best things to do in Bar Harbor is to peruse the local museums. There are several in the area, but here are a few.
Abbe Museum: The Abbe Museum is dedicated to sharing the history of the Wabanaki, the Native Americans who first settled in the area.

Great Harbor Maritime Museum: Located in the heart of Bar Harbor, the museum serves as a monument to the city's maritime history. It's located in the former town fire station. 

Wendell Gilley Museum: Wendell Gilley was an artist that specialized in decorative bird carving. This museum showcases his work.
Bar Harbor also offers several tours of the city. If you're a foodie, you're sure to enjoy a Bar Harbor food tour that allows you to not only learn more about the city but also enjoy fresh, locally-produced food. Fabulous walking history tours that truly take you back in time are also available, typically through November.
As we mentioned earlier, Bar Harbor is home to the beautiful Acadia National Park. And it's arguably most popular during fall under a blanket of reds and yellows and that crisp autumn air. Foliage generally peaks in mid-October, but can vary from one year to the next, and is best enjoyed by exploring the area's 120 miles of hiking trails.
The trails vary in length and difficulty. So, be sure you're picking an appropriate path before heading out for the day. The Great Head Trail is one of our favorites and it's likely doable for everyone in your group. It's a 1.4-mile trail that loops around a small peninsula called Great Head. It's rated as moderate but the views from the top are anything but! 
Now that you know all of the best things to do in Bar Harbor, Maine this fall, it's time for us to get you there! Consider shipping your luggage ahead with Luggage Free so you can finally enjoy the journey to your autumn getaway. Learn more today.