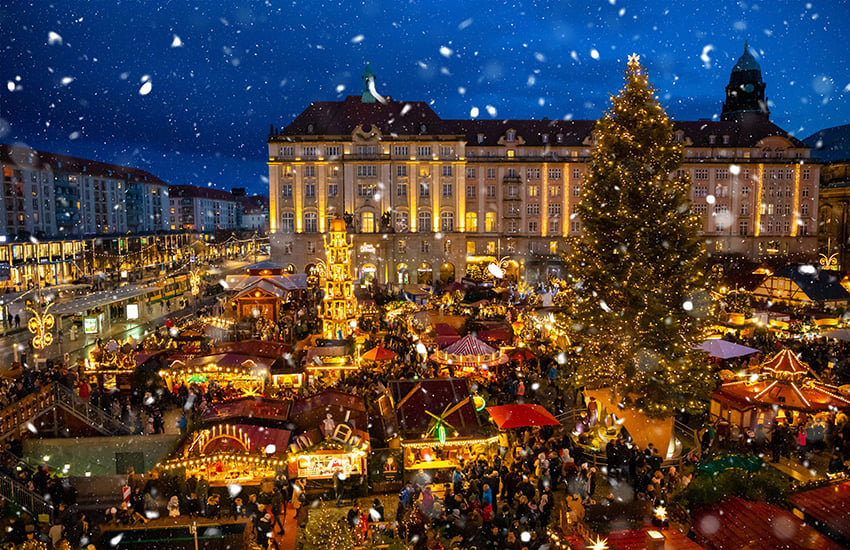 Posted December 6th, 2022
The holiday season is the most magical time of the year. And the hundreds of German markets that pop up around Christmastime are the most magical places to spend the most magical time of the year! Read more about the best German Christmas markets to visit this holiday season. 
These German Christmas Markets are Truly Magical
1. Nuremberg Christkindlesmarkt
The Nuremberg Christkindlesmarkt is known across the world as one of the oldest and most famous German Christmas markets. It's often referred to as "the little city of wood and cloth" and boasts hundreds of booths and vendors. Among those, you can find Christmas decor, baked treats, mulled wine, and a special children's Christmas market on Hans-Sachs-Platz.
2.
Dresdner Striezelmarkt
Dresdner Striezelmarkt is also considered one of the first German Christmas markets dating back to the early 1400s! That's just one reason visitors show up in record numbers year after year. The market also features the world's tallest step pyramid, a ferris wheel overlooking the market, and all the treats and eats you could dream of. 
3. Leipzig Christmas Market 
Not far behind the Dresdner Striezelmarkt in age is the wonderful Leipzig Christmas Market that dates back to 1458. It's located in the Leipzig city center and consists of roughly 250 stalls, blanketed by twinkling lights and a truly magical atmosphere. Visitors can also enjoy the live entertainment, traditional Medieval market, and plenty of kid-friendly activities, too, should they be traveling with little ones. 
4. Trier Christmas Market
Of the German Christmas markets on our list, the Trier Christmas Market is certainly one of the youngest. In fact, they're hosting just the 42nd edition of the market this year. But, don't be misled. There's no absence of charm or whimsy! There are typically about 100 booths throughout the market, so there's certainly something for everyone.
5. Berlin Christmas Markets
If you're interested in exploring several German Christmas markets, look no further than the country's capital: Berlin. Berlin is home to more than one hundred different markets! They vary in size and offerings and typically remain open from late November through Christmas.