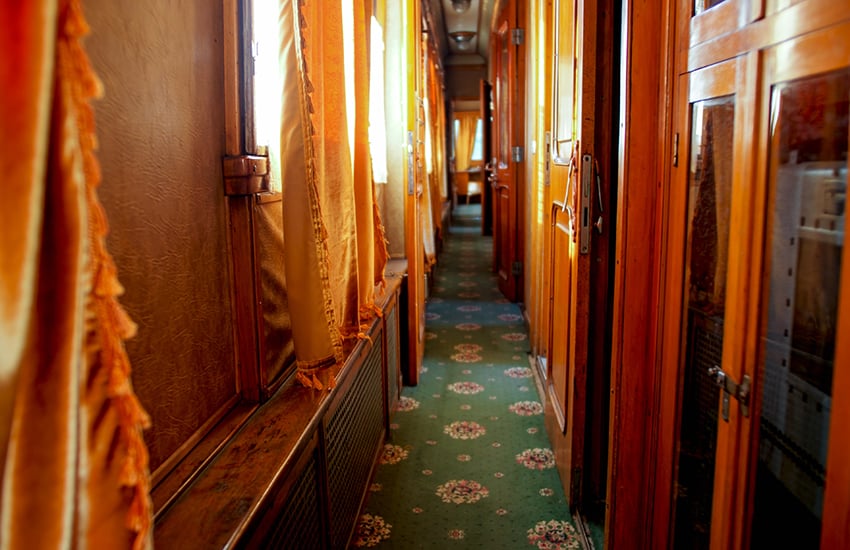 Posted October 13th, 2022
With cozy accommodations, unforgettable cuisine, one-of-a-kind excursions, and beautiful views, few experiences compare to those you'll enjoy on any of these luxurious train rides around the world.
Luxurious Train Rides Around the Globe
1. Seven Stars in Kyushu
Opened in 2013, Seven Stars in Kyushu is regarded as Japan's first luxury sleeper train. The train can accommodate up to 28 people with 14 elegantly appointed guest compartments. Because capacity is so limited, hopeful riders must enter a lottery with the chance of being selected to purchase a ticket. The train itself ventures through Kyushu's diverse landscapes with unique excursions and delicious cuisine.
2. Venice Simplon-Orient-Express
With stops in London, Paris, Budapest, Prague, Amsterdam, Venice, and more, the Venice Simplon-Orient-Express is one of the most magical ways to explore Europe. With glamorous decor and an upscale ambiance, each train car offers a new adventure. Lavish suites, fine dining, and a white-glove team of stewards and stewardesses complete the experience.
3. Rovos Rail
For a bespoke travel experience in one of the world's most extraordinary settings, look no further than the Rovos Rail. Based in South Africa, The Rovos Rail has been in operation since 1989 and remains one of the most luxurious train rides on the continent. Off-train excursions include visiting galleries, playing golf, admiring African wildlife, exploring ancient ruins, and so much more. Passengers can choose anywhere from 48-hour trips to 15-day journeys.
4. The Presidential Train
What began as the Portuguese Royal Train for King D. Luis I in 1890 now serves as one of the finest culinary experiences in Europe. The Presidential Train was restored in 2010 and travels through Portugal's Douro Valley. Passengers enjoy authentic Portuguese wines and cuisine from world-class chefs. 
5. The Canadian Train
With glass windows extending up to the ceiling of the carriage, few luxury trains offer as stunning views as those visible aboard the Canadian Train. The train travels through the breathtaking alpine landscapes of Toronto, Vancouver, Winnipeg, Edmonton, and Jasper. It takes a total of 86 hours to complete the route.