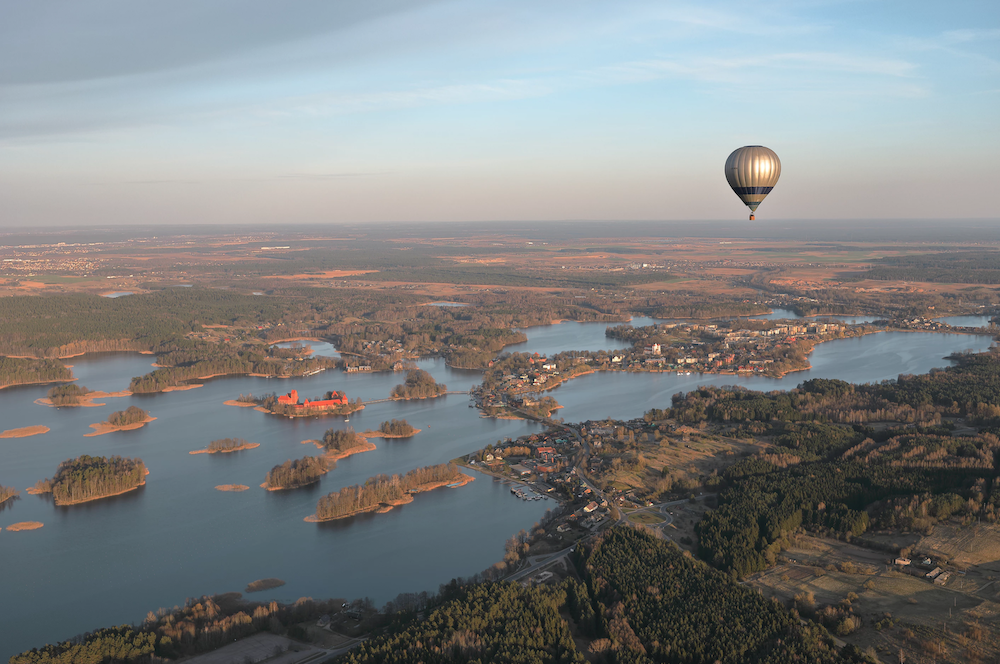 Posted August 5th, 2019
Lithuania, Latvia and Estonia are piquing the interest of certain savvy travelers.
Still slightly off the beaten path, the Baltic States of Lithuania, Latvia and Estonia are piquing the interest of savvy travelers — especially those wanting to avoid cumbersome crowds. And fall offers a wealth of seasonal attractions and authentic experiences. From flower festivals to mushroom hunting, check out the five best things to do in the Baltic States this fall.
Wandering Lights Festival
Kadriorg Park, Estonia
September 18-19
Estonia's Wandering Lights Festival in Kadriorg Park in Tallinn is the perfect romantic getaway for couples. The fest celebrates Head to fire, magic, and romance with thousands of twinkling candles and lighting installations. The magnificent architecture of the landscape and the palace sets the stage for a night where you can enjoy strolling on illuminated paths, in addition to live music and more.
Flower Festival
Pakruojis, Lithuania
Through October 15
Pakruojis, Lithuania is home to the largest flower festival in Europe. Expect fairytale enchantment on the grounds of the historical 19th-century Manor of Pakruojis courtesy of local artists. Find flower carpets blanketing the manor, along with floral competitions, and flower sculptures. Reminiscent of A Midsummer Night's Dream, the Shakespeare-inspired festival features half a million flower blossoms. The event also offers plenty of cultural and historical activities. On weekends, guests are welcome to join the theater performers and participate in live interpretations of scenes from Shakespeare's play. Guests can also enjoy traditional food and drinks, visit a traditional 19th century perfume making workshop, a honeybee farm, or a sewing atelier.
St. Martin's Fair
Tallinn, Estonia
November 7-10
Travel to Estonia's capital city, Tallinn for the largest folkloric lifestyle event in the country. St. Martin's Fair is a celebration of its namesake holiday and the fall season. It offers a unique opportunity to connect with Estonian culture. The festival offers crafting and folk art workshops for adults and children, along with folk music, and seasonal foods. Craft schools, museums, and other local organizations walk visitors through the ethnic culture, including traditional historical musical instruments, songs, dances, and traditional garments. The highlight of the fair, the Handicraft Night, takes place on Friday, and offers a special cultural program, complete with folk fashion show, live bands, traditional food, drinks, and dancing.
Foraging for Wild Mushrooms
Lithuania, Latvia, and Estonia
Fall is the perfect time for mushroom hunting in all three Baltic States. Experience the countries' vast unspoiled forests (which are perfect for long walks among the vibrant fall leaves), on your mushroom foraging expedition. Cooking and tasting forest-grown goods is an experience on its own. When you're over hunting, and just feel like tasting, many local restaurants offer dishes featuring mushrooms. And, during Riga Restaurant Week (October 7-13), local eateries offer specially priced menus full of seasonal delicacies.
Hot Air Balloon Flight
Old Town Vilnius, Lithuania
Float above the Red-tiled roofs and historic church steeples of Old Town Vilnius, Lithuania. The UNESCO World Heritage sight is one of few European cities that allows hot air balloons to fly over its city streets. Breeze above the brightly colored tree tops while you gaze at the landscape's rolling hills and river valleys. Visit Hot Air Lines, Balloon.lt or Smile Balloons to book your expedition.
Photo by Maksim Shutov on Unsplash