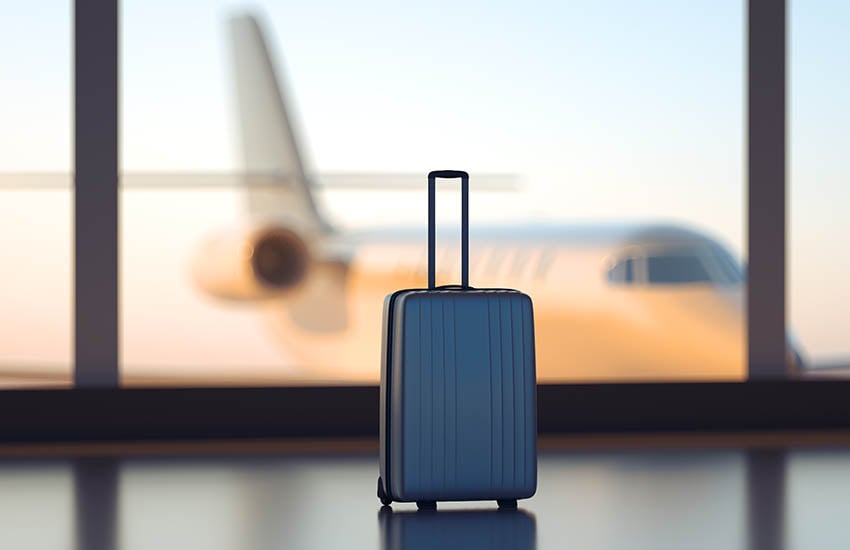 Posted July 7th, 2021
Airline baggage delivery is an excellent way to travel without your luggage. But, what if there was a better option? On top of allowing you to travel bag-free, shipping your luggage ahead of your arrival with Luggage Free allows you to avoid dealing with the airlines altogether.
The Better Version of Airline Baggage Delivery
If you're not familiar with airline baggage delivery, let us break it down for you. While the details of airline baggage delivery may vary depending on where you're traveling, most offer the same service. 
Airline baggage delivery still requires you to drag your luggage from your car, to the airport, and the specific drop-off location within the airport. However, after landing, you can bypass baggage claim as your luggage will be delivered from the airport to your destination.
If you'd like to have access to your baggage within a reasonable amount of time after landing, then airline baggage delivery will not be the ideal service for you. In most cases, you'll have access to your luggage a few hours after arriving at your hotel, resort, or rental property. However, some airline baggage delivery services may take days to transport your luggage to your location. 
Additionally, airline baggage delivery is not available at all airports or with all airlines. In locations where it is an option, your delivery destination must be within a certain radius. Otherwise, the airlines will not be able to deliver your luggage.
Sound like a lot of hoops to jump through? We thought so, too.
Rather than utilizing airline baggage delivery, considering shipping your luggage from your doorstep directly to your destination. Luggage Free will collect your luggage from your residence, business, resort, or hotel before your departure to the airport. Simply pack your bags like you normally would for airline baggage delivery or airline travel in general, and Luggage Free will pick up your baggage at your preferred time of day.
So, while airline baggage delivery requires you to drag your baggage to the airport, shipping your luggage instead means you never have to lift a finger. 
Many airline baggage deliveries also don't offer the ability to track your baggage, leaving you waiting bagless in your hotel room. Luggage Free, however, offers detailed tracking information accessible 24/7 and all shipments are paired with an on-time delivery guarantee. For even more peace of mind, Luggage Free includes $500 of complimentary value protection on every shipment with the option to add up to $10,000 of coverage.
Traveling internationally? Luggage Free services 180 countries worldwide. If you're traveling with sporting equipment like golf clubs, skis, or snowboards, Luggage Free can ship your gear ahead along with your luggage, too. Airline baggage delivery may alleviate some hassles at the airport, but shipping your luggage ahead is the clear winner. Learn more about shipping your luggage and sporting equipment or generate a free quote today.