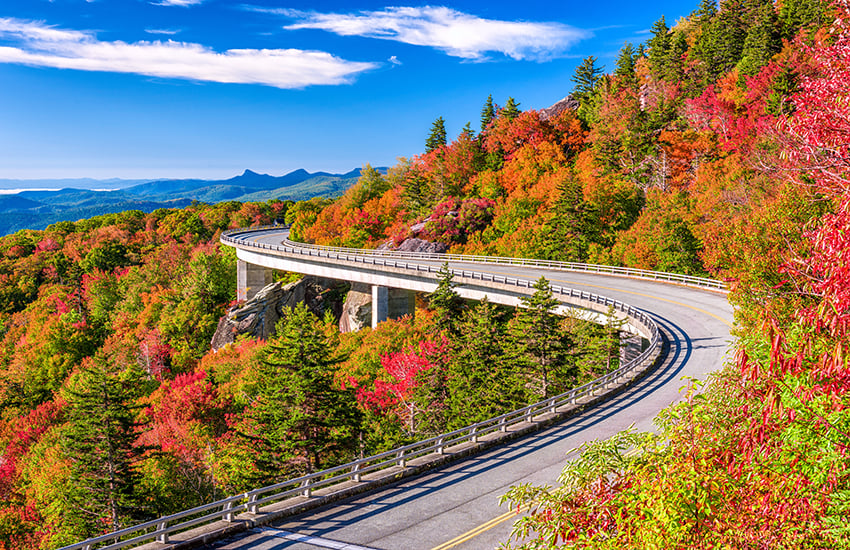 Posted September 29th, 2022
It's that time of year again! The time for falling leaves, apple picking, and pumpkin carving. And for those who call Asheville, North Carolina home or are planning to visit the beautiful city this fall, that means it's also time for scenic drives along the Blue Ridge Parkway, perusing art galleries and museums, or spending a day at a fall festival. These are the best things to do in Asheville.
The Best Things To Do In Asheville
The beautiful Blue Ridge Mountains cover the majority of western North Carolina. And Asheville is right in the heart of it. Not only does this make it a prime destination for hiking and biking, but it also means that Asheville becomes an autumnal wonder once the leaves begin to change.
Between the Blue Ridge Mountains and nearby Pisgah National Forest, there's arguably no better place in the southeast to take in all the beauty of autumn. And if you're looking for a less strenuous method than hiking to enjoy the fall foliage, spend a day along the Blue Ridge Parkway. The parkway winds through the mountains affording stunning alpine views with several stops along the way at small villages and scenic lookouts.
Downtown Asheville is equally as impressive. It's most known for its art galleries, breweries, local boutiques, quaint coffee shops, and overall eclectic atmosphere.
Did you know Asheville is also one of the best up-and-coming wine destinations, too? That's right! There are a handful of vineyards and wineries in and around Asheville. In fact, one of the most popular in the area is the Biltmore Estate Winery.
For those unfamiliar with the name, the Biltmore Estate was George Vanderbilt's castle complete with 250 rooms, 65 fireplaces, and even an indoor pool! It's nestled among 8,000 acres of stunning landscape and is open every day of the week for tours.
A visit to the Biltmore is one of the best things to do in Asheville. But if you happen to be traveling to Asheville later in the year, you can even experience the Biltmore in all its Christmas-decorated grandeur. It's truly something to behold.
Are you ready for your fall vacation to the Carolinas? Make your autumn getaway more relaxing and stress-free by leaving your luggage to the experts. Ship your luggage ahead with Luggage Free and you'll never go back to traditional airline travel. We promise!