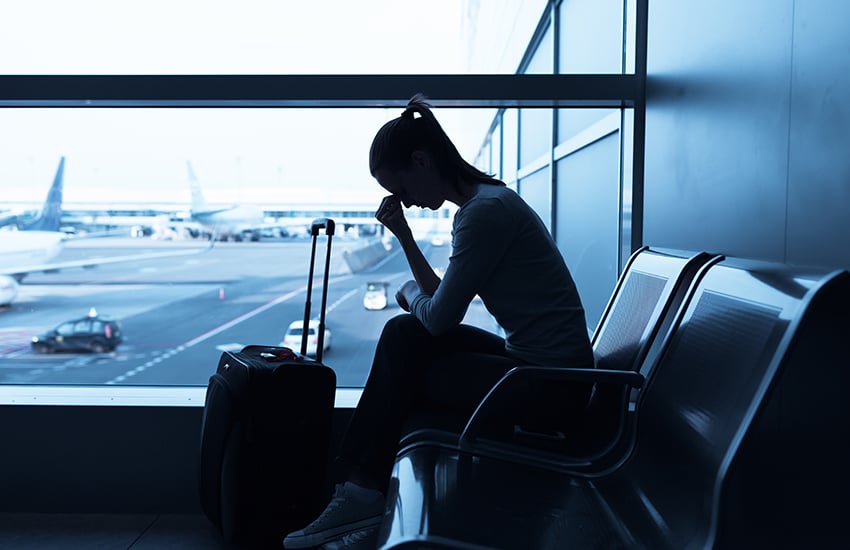 Posted July 1st, 2021
A vacation is supposed to be relaxing. But from rushing to make it to your gate in time, to ensuring you've packed everything you'll need, getting your vacation started is often anything but relaxing. So, why put up with the travel stress any longer? We've found the easiest ways to reduce travel stress on your next vacation.
5 Easy Ways to Reduce Travel Stress at the Airport
1. Ship Your Luggage Ahead
Carrying, checking, and claiming baggage is one of the main sources of airport travel stress. Eliminate it by using Luggage Free, the world's leading luggage shipping service. When you ship your luggage ahead, you can breeze through TSA bag-free and board your flight with zero travel stress. Arrive at your destination to find your baggage already there! Traveling with golf clubs or skis? Luggage Free can ship your sporting equipment, too, so you can avoid oversized baggage fees. It's one of the most convenient and affordable ways to reduce travel stress at the airport. 
2. Purchase A Morning Flight
Morning flights are less likely to be delayed. So, if you're arrival time is time-sensitive, consider selecting an early morning flight. Airport traffic is also lighter in the morning, both in and around the airport, which is another great way to reduce travel stress.
3. Check-In Online
As airlines continue to improve their technology, it's getting easier and easier for passengers to check-in for their flight online, select their seats, or add TSA pre-check to their itinerary. Take advantage of the ability to check-in online to reduce travel stress, and arrive at the airport with your boarding pass already in-hand. 
4. Be TSA-Ready
TSA is undoubtedly one of the most stressful aspects of airline travel. With large crowds, long lines, and agents shouting instructions from every corner of the airport, it's important to minimize your time in TSA to reduce travel stress. Consider wearing slip-on shoes so you don't hold up the line lacing them back up. If you can opt for pants with an elastic waistband, wear those instead.
They're likely more comfortable than jeans or dress pants and eliminate the need to wear a belt, which would need to be removed before going through security. Keep your boarding pass and your ID in an accessible location and be cognizant of where your electronic devices are located in your baggage for easy removal and less travel stress.
5. Bring A Book
Whether it's a book you've been anxious to read or a movie you've been wanting to watch, don't forget to bring entertainment with you to the airport. Rather than watching the clock slowly tick down until it's time to board your flight, keeping yourself distracted and entertained is a great way to reduce travel stress.