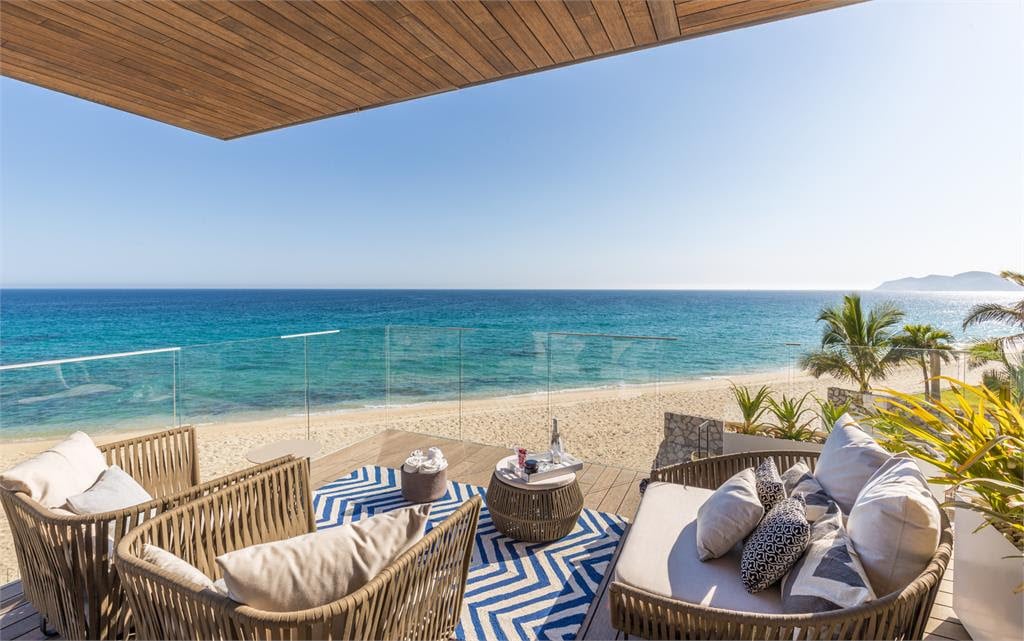 Posted March 19th, 2018
Mexico's newest luxury hotel, Solaz Los Cabos, offers bespoke luxury on in Baja del Sur.
If you've been to Los Cabos, Mexico lately, you've probably noticed that the holiday destination on the Sea of Cortez is booming with dynamic new places to stay and play. One of its forthcoming properties — Solaz, a Luxury Collection Resort, Los Cabos — is positioning itself to take the lead in luxury accommodations and bespoke service. Find out everything you need to know about one of Mexico's hottest new vacation properties.
Solaz Los Cabos, the first foray into Baja del Sur, Mexico by The Luxury Collection Hotels & Resorts, is set to open in June 2018. The 128-room beachfront paradise is situated on 34 acres off the Sea of Cortez, and also boasts 21 extravagant residences (just in case you never want to leave). The resort embraces architectural elegance as it gracefully connects the desert to the Sea of Cortez with a cascading contemporary design by Sordo Madaleno. Solaz pays tribute to the people, land, sea and folklore of the Baja peninsula through original works of art by Cesar Lopez-Negrete throughout the destination, a culinary program that celebrates the regional cuisines of Mexico, spa treatments that use indigenous materials and philosophies, and other details that add up to an unforgettable getaway for couples and families.
"Solaz Resort will offer global explorers a new gateway to the Baja California Peninsula and deliver unparalleled travel experiences signature to The Luxury Collection," said Mitzi Gaskins, Global Brand Leader, The Luxury Collection.
Those experiences are the backbone of the resort, and each is designed to appeal to your passion and curiosity. Solaz personally curates them for you through its artisan butler service. For example, you can enjoy excursions to historic places via the resort's helicopter, immerse yourself in local history with a journey to see legendary cave paintings, or go fishing on the resort's yacht with the chef preparing their catch on board or at a private dinner on the beach. You can learn to cook regional Mexican fare with the chef, or work with local artisans to create an original work of art. You can travel without bags by shipping luggage internationally with Luggage Free.
Design
In addition to experiences tailored to you, Solaz offers spacious guest rooms, residences, spa and wellness center, and on-site dining options. The resort's ambiance is an experience in itself featuring cascading terraces that blend desert vegetation with quarry stone, granite, marble and wood to create an architectural "sculpture" of breathtaking design amidst desert landscaping. Each meticulously planned guest room and suite features a private entrance and patio; custom, contemporary furnishings; and original art. Floor plans bring the enticing outdoor setting into the room with private terraces that provide unobstructed views of the Sea of Cortez.
Dining
Culinary offerings at Solaz also channel regional Mexican flare. Six distinct restaurants and lounges welcome visitors with discerning palates. Executive Chef Pedro Joaquin Arceyut and his team will offer freshly caught fish and seafood at Al Pairo; traditional and contemporary Baja fare and tapas at Cascabel; and a "Dinner Grill" featuring dry-aged steaks, local live lobsters, and the sea's freshest fish at Mako. Those looking for lively libations can enjoy perfectly paired cocktails and an impressive wine program at La Cava, the ideal place to cap off the day with a selection of more than 2,500 vintages — many of which are local to the region.
Relaxation
When you need to relax, dip your toes into one of the resort's 50-meter infinity pools lining 1,246 linear feet of white sand beaches overlooking the Sea of Cortez. Each pool incorporates butterfly green granite, which emulates and seamlessly merges with the Sea of Cortez's tranquil turquoise waters. Take your relaxation a bit further at the Ojo de Liebre Spa, which offers 10 private treatment rooms and two VIP double rooms, along with a full range of services like Alo Therapy (Himalayan Salt Igloo) and Thalasso Therapy — the later only available in Baja California at the Ojo de Liebre Spa. A full-service salon provides manicures, pedicures and other amenities. Families visiting the resort can also take advantage of the children's club.