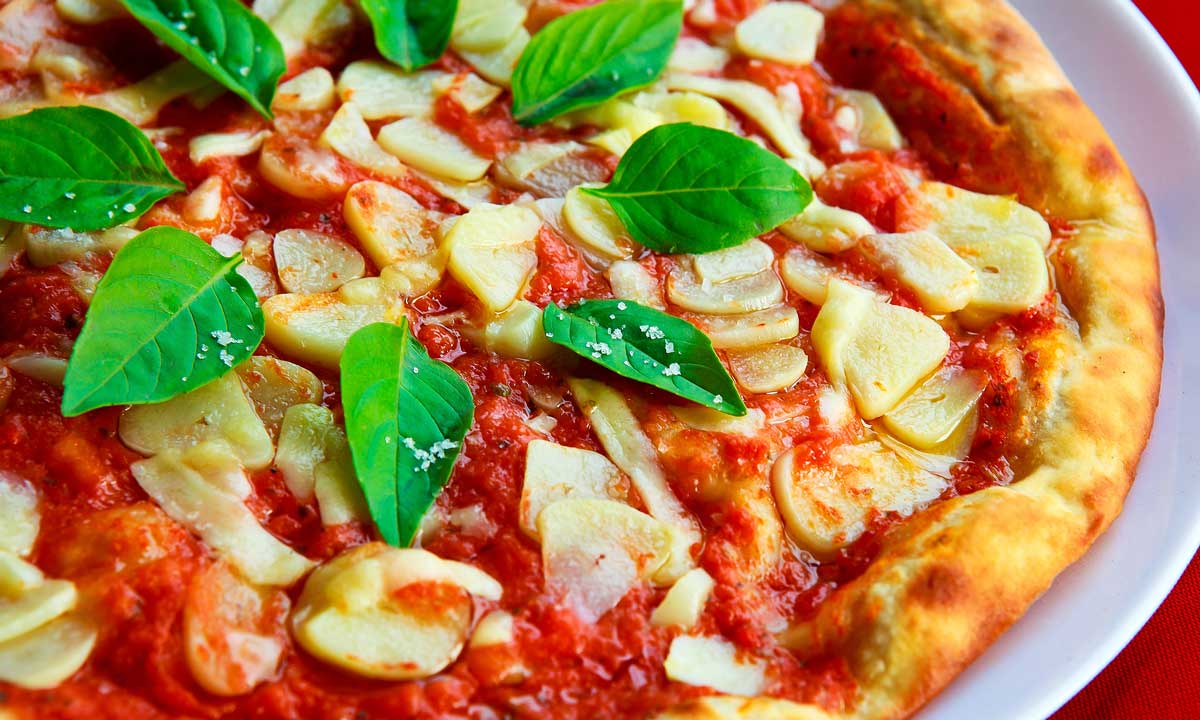 Posted June 10th, 2016
Next to Naples, Italy, few places on the planet come close to having a pizza pedigree as deep as New York City.  From comforting classics to nuvo-creations, you can get your slice coal-fired, fried, on fermented dough and more. When you're making a pre-travel checklist of restaurants to eat at in New York, make sure these four are on your list.
Co.
This Chelsea pizza parlor is the brainchild of Jim Lahey from the famed Sullivan Street Bakery. Lahey knows a thing or two about dough. He received the inaugural James Beard Award for Outstanding Baker in 2015. Followers flock around a long communal table for the stellar crusts made from fermented dough and baked in a wood fire that can get as hot as 900 degrees. Menu favorites include Popeye with pecorino, gruyere, mozzarella, spinach, black pepper and garlic; Ham & Cheese with pecorino, gruyere, mozzarella, prosciutto and caraway; and the cheesy Stracciatella with crushed tomato, stracciatella cheese, arugula and black pepper.
Motorino
New York Times Food Editor, Sam Sifton, hailed the restaurant– which has now expanded from Brooklyn to the East Village to SoHo, and into an empire with locations in the Philippines, Singapore and Hong Kong– as the best in New York. The man behind the pie is Belgian-born Mathieu Palombino, who trained in classic French technique and cut his teeth at upscale New York restaurants Bouley and BLT Fish before launching his signature wood-fired Neapolitan pies. Favorites on the menu include the classic Margherita with tomato sauce, buffalo mozzarella, pecorino, extra virgin olive oil and sea salt; Soppressata Piccante with tomato sauce, buffalo mozzarella, soppressata, extra virgin olive oil, chili flakes, sea salt, oregano and pecorino; and the Brussels Sprouts with buffalo mozzarella, garlic, pecorino, smoked pancetta and extra virgin olive oil.
Paulie Gee's
Paul Gianonne had a singular mission in life and it was to make great pizza. At age 54, his quit his job to realize his dream of owning a pizza parlor– enter Paulie Gee's. His original Greenpoint, Brooklyn location might feel like a trek from a top Manhattan hotel, but it's worth the cab fare to feast on Gianonne's critically acclaimed Neapolitan pies. Food lovers go crazy over the Hellboy with fresh mozzarella, Italian tomatoes, Berkshire Sopressata piccante, parmigiano reggiano and Mike's HOT Honey; the Cherry Jones, with fresh mozzarella, gorgonzola cheese, prosciutto di parma, dried bing cherries and orange blossom honey, or the Greenpointer, with fresh mozzarella, baby arugula, olive oil, fresh lemon juice and shaved parmigiano reggiano. The shop also serves a vegan version of the latter with nutritional yeast stepping in for the cheese.
Don Antonio By Starita
If meticulous attention to the traditional Neapolitan craft and variety of pie is your thing, Don Antonio in Hell's Kitchen is a must-visit. The restaurant is run by dream duo and culinary legends, Kesté's Roberto Caporuscio, his mentor, Antonio Starita. The Don Antonio menu reads like a pizza bible. You will find everything pizza dreams are made of here with over 60 varietals of red pizza, white pizza, gluten free pizza and Antonio Sarita's specialty, fried pizza– lightly fried pizza dough, topped with signature Starita tomato sauce, imported smoked buffalo mozzarella and basil, then finished in a wood-fired oven). In case that's not enough, there are daily house specials.