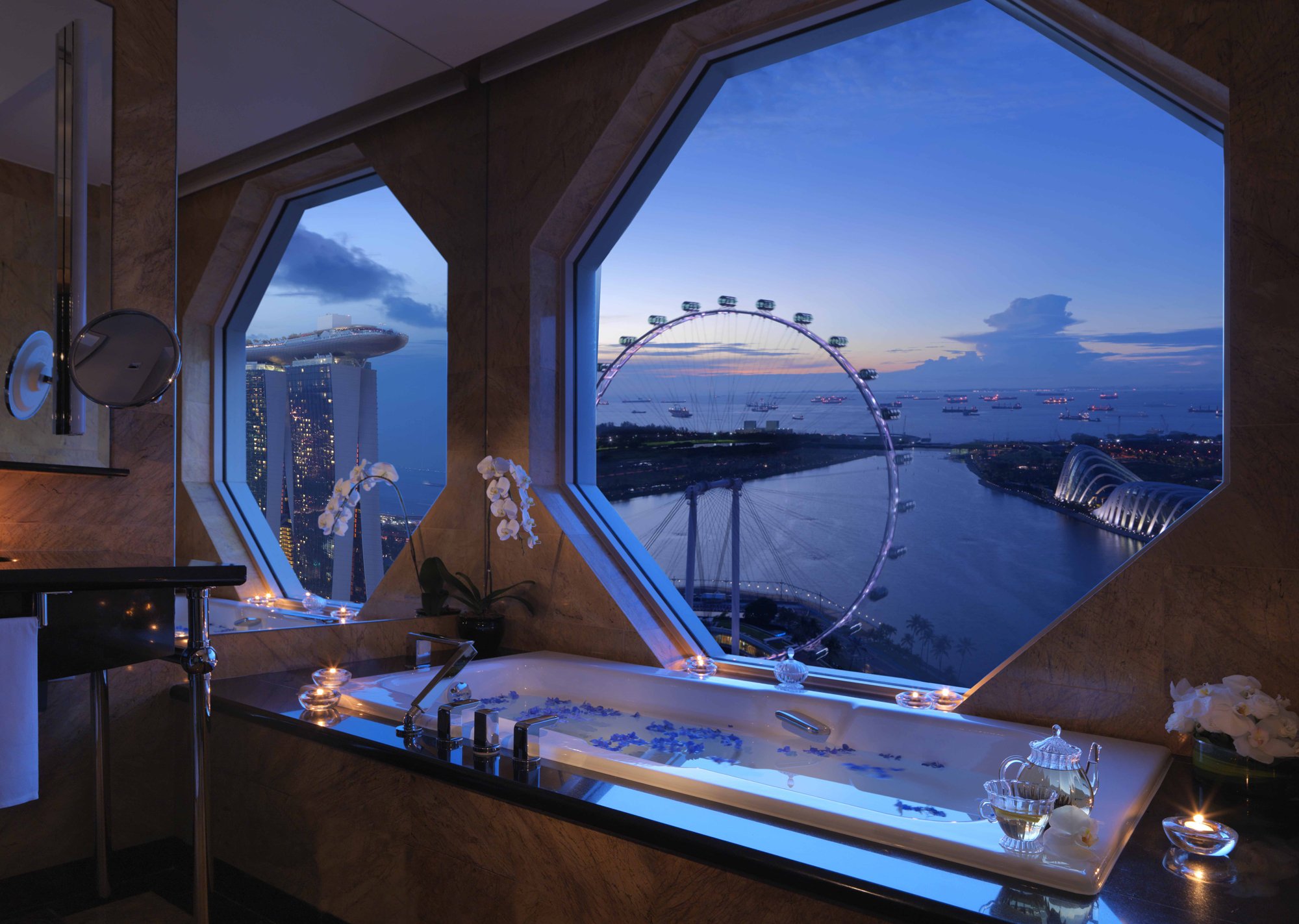 Posted September 26th, 2016
Find out which loos are lookers in our roundup of some of the world's top bathrooms.
The iconic hotel—themed after the mythic island—is perched on the apex of Palm Jumeirah, the man-made, palm tree-shaped archipelago in the United Arab Emirates. The design of the hotel boasts two towers, connected by its Royal Bridge Suite. It also features two three-story aquatic-themed underwater suites aptly named after Neptune and Poseidon. Gaze out at the depths of Ambassador Lagoon and watch its 65,000 marine inhabitants swim by while you bask in the six-jetted rainfall shower and pedestal jetted bathtub. Amenities like a conditioner made with 24 ct. gold make bath time that much more luxurious.
The luxury hotel in Ocho Rios, Jamaica is perched on a private beach with calm turquoise waters. You can gaze out at them from the comfort of your bathroom when you book Cottage 7. The one-bedroom, 2,018 square foot, two-story cottage offers pristine views of the Caribbean Sea from the cottage's bathroom. You can choose to take your shower inside or out. The bathroom features an indoor shower with iridescent glass tiles that leads to a second outdoor shower on the cottage's balcony. Gaze out at calm waves leisurely lapping the shore from a free standing oval soaking tub, which also has views of the cottage's 16-foot infinity pool. You don't even need to leave your room to take a dip in the sea—it also has an exclusive staircase that leads down into a private cove.
The luxury property is also a contemporary architectural work of art designed by Pritzker prize-winning architect Kevin Roche. It not only boasts a 4,200-piece contemporary art collection but also stellar views of Marina Bay and the skyline—from your bathroom. Take in the view from a three-square metre octagonal window on the site of the marble-tiled soaking tub. Take your bathing experience to the next level by requesting a butler-drawn bath from an extensive aromatherapy menu of different scents. Additional amenities include a separate shower stall, European bathroom toiletries and plush terry bathrobes.
The best views of Manhattan aren't from the Empire State Building, they just might be from the Mandarin Oriental hotel's Oriental Suite. The expansive 1800 sq. ft. accommodation is perched on the 52nd floor of the luxury property. It features double sinks, a walk in shower and luxe bathroom amenities like plush terry robes. The corner soaking tub takes center stage though. Relax and gaze out the window for perfect views of Central Park, the Hudson River and the Manhattan skyline.