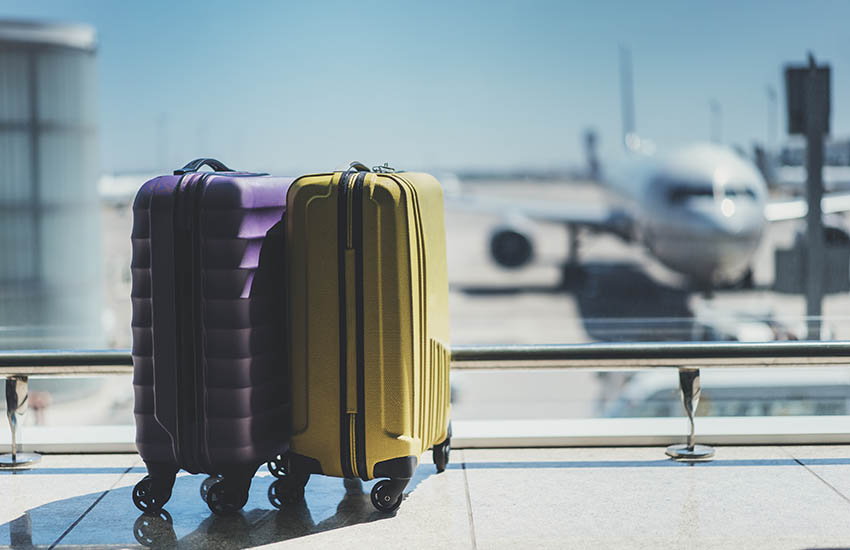 Posted July 7th, 2021
There's an endless list of things to do before you travel, but shipping luggage vs checking? Is it really even a question? Want to travel without luggage all together? Well, we have some luggage shipping options for you. 
Ship Baggage and Travel Light
Shipping baggage with Luggage Free allows you to board the plane with the peace of mind that your luggage will be waiting for you at your destination, whether a hotel lobby or a relative's living room. It's guaranteed. All you need to do is pack and Luggage Free takes care of the rest so you can travel without luggage. 
After taking your bags off your hands, Luggage Free then ships your luggage anywhere you desire. Need luggage shipping to London, Lisbon, or Tokyo? You name the time and the place and Luggage Free can ship your baggage to 180 countries worldwide, allowing you to travel without luggage to virtually any destination.
From remembering your toothbrush to locating your passport, traveling has enough hurdles without having to worry about checking your luggage. With Luggage Free's luggage delivery service, all you need to do is pick up the phone, computer, or iPad, and book a quick reservation. Our representatives can pick up at any time, even at the last minute, so you can travel without luggage on every vacation. We'll send an associate to your door at the exact time you specify. You simply prepare the baggage the same way you would go to the airport. Once delivered, you will receive an email notification alerting you that your shipment is waiting for you at your destination.
What do you save with a luggage shipping service like Luggage Free? Besides the hassle of hauling your bags everywhere, you get to skip the baggage line, not to mention sifting through hundreds of similar-looking bags at a crowded baggage carousel at the end of your exhausting flight. Get off the plane with nothing but a magazine, travel without luggage, and arrive at your destination with your bags waiting for you. 
Luggage Free takes care of all the details when you ship your bags. In fact, you don't even need to track it. Luggage Free will not only ship luggage but will track it for you too, checking it at every stop until it arrives safely at your destination. If you prefer to do your own tracking, help yourself, but the added convenience is just another perk of going with a luggage delivery service in the first place so you can travel without luggage.
Traveling the world doesn't have to mean lugging your bags around with you. Leave for your flight as if you're going to a movie, hands-free and hassle-free. Send your luggage ahead and all you'll have to worry about is a book, your headphones, and your smartphone or tablet. Skip the baggage rack and get off the plane and head straight to the taxi when you travel without luggage. 
No more surprise baggage fees when you arrive at your gate with your "carry on" and hear you can't carry it on. No more rug burns from heavy backpacks or wrenched shoulders from suitcase wrangling. Relax, leave the heavy lifting to us, and enjoy the journey to your destination when you travel without luggage. We designed our service to take the hassle out of travel so you can enjoy yourself more, and we think you'll be pleasantly surprised at just how affordable this premium service can be. Travel with your hands, and your heart, light.