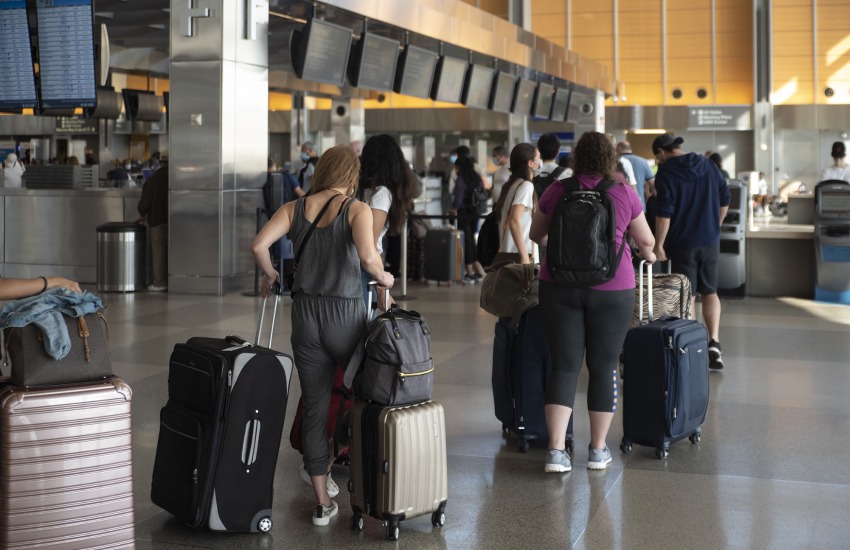 Posted November 23rd, 2021
Did you know the average person waits in line for six months of their life? That's why we don't believe in lines. And when you ship your luggage ahead, you can finally skip airport lines on every trip.
Skip Airport Lines Every Time
You'll first experience the joys of bag-free travel when you head to the airport. Simply grab your phone and wallet and travel with peace of mind, knowing your luggage is already at your destination. 
After arriving at the airport, you can breeze past the check-in line and savor your pre-flight experience. 47% of travelers experience frustration going through security, passport control, and customs. But, when you ship luggage ahead and skip airport lines, that's one statistic you won't be a part of.
You'll also enjoy a civilized boarding experience. Airlines estimate over 80% of passengers carry a personal item that needs to be stowed in overhead bins. But fighting for space in the overhead bins is a nightmare. And taking them out of the bins after the plane has landed can be equally as stressful. Shipping luggage ahead eliminates this travel headache entirely.
After landing at your destination, you can stroll right past the baggage carousel where the average wait time for your luggage to be returned to you is 30 minutes.
And with nothing to declare when traveling internationally, you can breeze through customs, too, where wait times range anywhere from 40 minutes to two hours.
Are you ready to skip airport lines and ship luggage ahead?