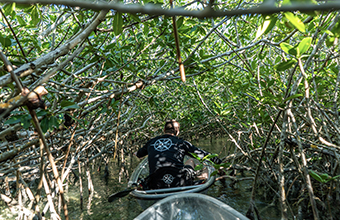 Posted July 16th, 2020
While summer vacations may look a little different this year, continually adapting to a new way of travel isn't. 
So, what better place to take your next vacation to than the Florida Keys? Although some minor guidelines are currently in place, this getaway is the perfect place to escape this summer.
1. Sight See in Key West
Key West has a plethora of activities to offer that is sure to appease. Take a guided bike tour to all prime locations throughout Key West. You'll ride down Duval Street, where popular tourist restaurants, bars, and local shops line the street. 
Depending on the tour you choose, the Ernest Hemingway Home and Museum is sure to be on the route. Former author Hemingway is an important piece of Florida's cultural history. Many flower species can we found throughout the property, making the garden surrounding the home a crowd-pleaser.
Mallory Square, another key spot is known for its nightly sunset celebrations. Vendors and entertainers gather to create a festive atmosphere for tourists admiring the infamous sunset over the Gulf.
2. Water Activities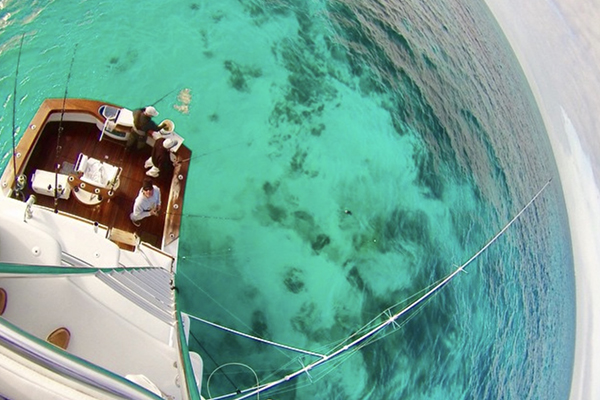 Known for its beautiful clear waterways, The Keys is stacked with outdoor water activities at every turn. 
For the more adventurous ones, renting a pair of jet skis for the day is a great way to soak in the serene views while breezing through the pristine ocean. 
And, for those who prefer to experience marine life up close, scuba diving and snorkeling can be found throughout state parks and at some resorts located near water. 
If you're looking for some action on the water, we highly recommend renting a charter boat for the day to reel in some local fish. From Tuna, Wahoo, Tarpon, Snapper, and Sailfish caught year-round to the seasonal Maui-Maui between April-September, no matter what fish you're lucky to bring in, you're sure to create lifetime memories doing it.
3. Sunset Sailing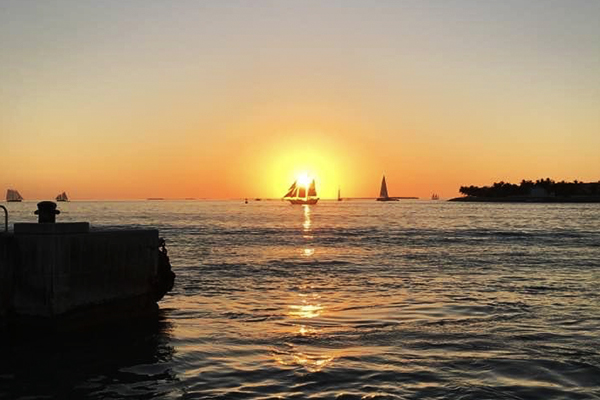 The iconic sunset is part of a nightly ritual in the Keys. What better way to soak in the exquisite views than on a private charter? Enjoy the luxury of cruising the emerald waters on an intimate yacht or sailboat. 
Top it off with a few drinks and appetizers, and you've found yourself right where you belong, enjoying premier hospitality.
4. Southern Most Point Marker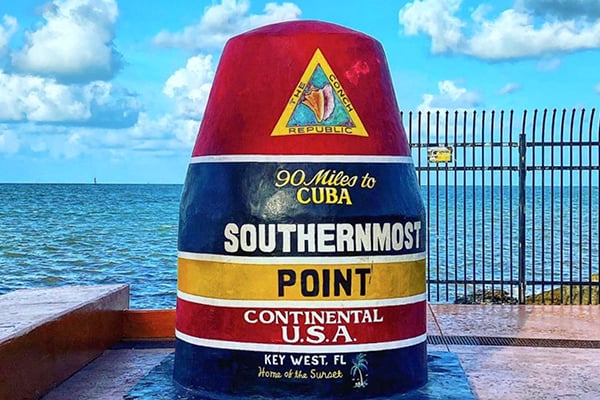 One of the most popular attractions, The Southern Most Point Marker, has visitors lined up throughout the day eager to capture a picture with the infamous buoy. With only 90 miles to Cuba, standing at the furthest point in Florida, it's a unique experience, to say the least. 
If you plan on making this a pitstop, we encourage you to arrive early to avoid waiting in a long line.
5. Visit A State Park
Enjoying the day at a state park is a must. Whether you're interested in the rich marine life or spending the day relaxing in the sun, there's no shortage of fun. 
Located in the longest key, Key Largo is John Pennekamp Coral Reef State Park. Take a glass-bottom boat tour for a close-up view of the world beneath the ocean surface. With a number of shipwrecks in close proximity, snorkelers and scuba divers alike flock to the area to experience the underwater reefs.  Although there is a shell-covered beach with a small swimming area, this park is populated with divers.
Another superior state park to stop at is Bahia Honda State Park, undoubtedly known as the nicest beach in the Keys. Located in Big Pine Key, the park has two separate beach access areas. A smaller beach area looking across to the old railroad bridge. And, one large stretch facing the open ocean. Nestled on 400 acres, the park offers beach equipment rental, concessions, snorkeling, and more.
6. Clear Kayaking Tour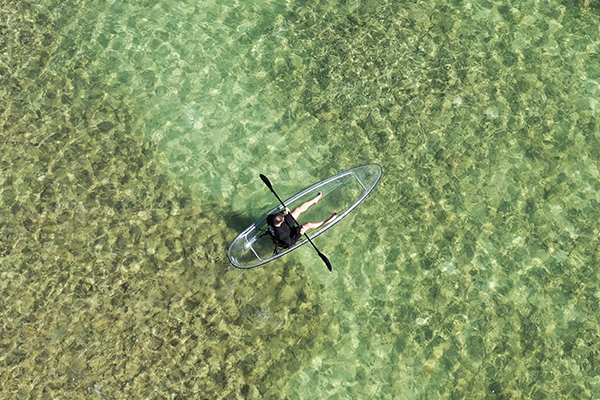 Situated in Sugarloaf Key, just a short 25-minute drive from Key West and 45 minutes from Marathon, makes this new attraction ideal from any location. Get Up and Go Kayaking, Florida's best-reviewed and original clear kayak company offers locals and tourists a chance to experience exciting nature and marine life. 
Take an adventure alongside mangroves, beautiful waterways, and keep your eyes peeled for some exciting nature and marine life. You're sure to see iguanas, pelicans, and even friendly resident nurse sharks!
While maneuvering through the scenic mangrove mazes and tunnels be on the lookout for some great marine life such as starfish, conch, pufferfish, sea turtles, sea cucumbers, upside-down jellies and more.
"Our kayaks are 100% clear making it the best way to appreciate the crystal clear waters in the Florida Keys, says Jacob Rawlins, Owner of Get Up and Go Kayaking Florida Keys. "Our tours are 2+ hours led by guides with a wealth of knowledge there to educate and inform you of the local wildlife. They are happy to take photos and videos for you to make sure your experience is unforgettable. There is no better way to experience the great outdoors."
---
 Learn more about the latest Florida Keys Travel guidelines here.