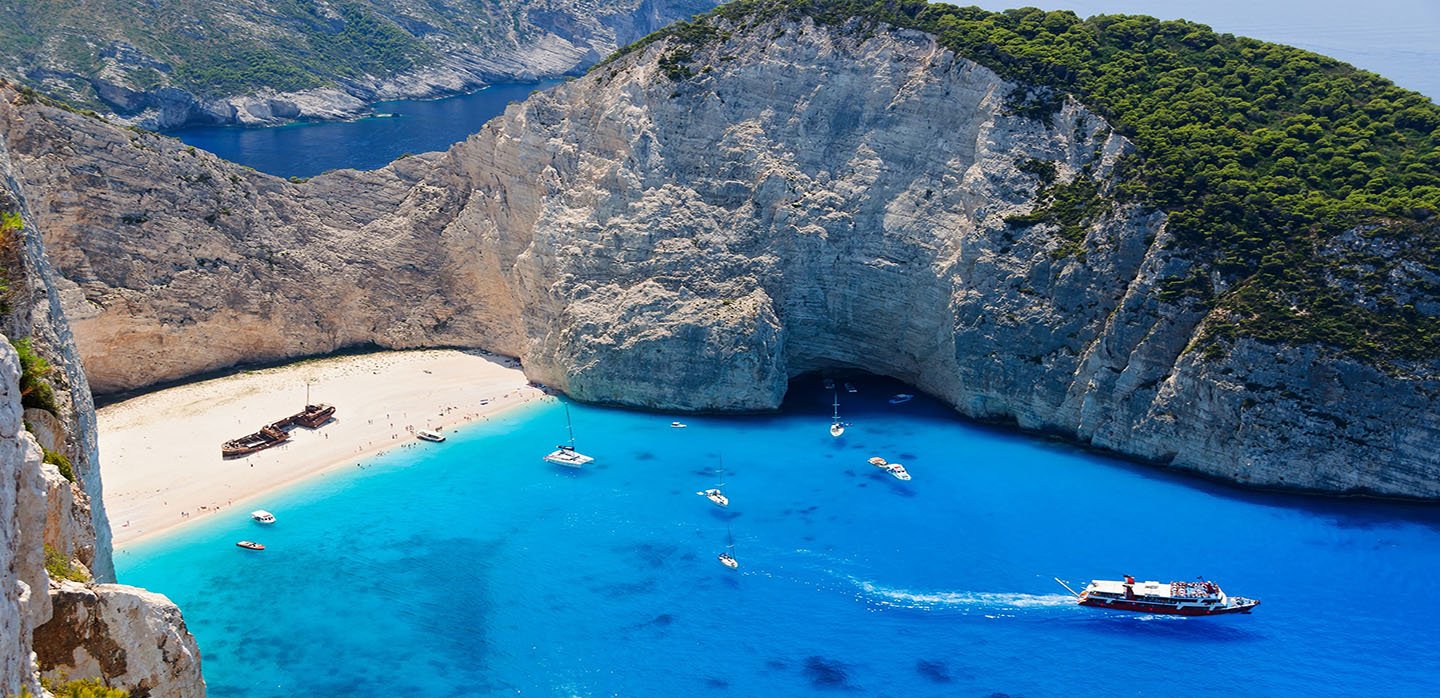 Posted December 4th, 2017
Winter weather getting you down? Time to dream about sunnier days, powdery sand, and crystal blue waters. And to help you out, FlightNetwork online travel agency has consulted 600+ of world's best travel journalists, editors, bloggers and agencies — the people who do this for a living — to gain insight from their opinions and expertise on where the world's top 10 beaches are now. Check out the list:
No. 1
Grace Bay
Turks and Caicos
Grace Bay Beach, in Turks and Caicos is the most iconic and awe-inspiring stretch of sand in the world, and you'll know you've set foot on one of the most spectacular beaches the moment you arrive. The protective and remarkably colorful barrier reef, which sits 1.6 kilometers off the shore, keeps the ocean swells at bay, making Grace Bay one of the most ideal places to soak in warm Atlantic waters. Swimmers enjoy consistent plush sands without the annoyance of rocks, seaweed or pollution. Those looking for a truly unforgettable underwater adventure can take the short boat ride to the barrier reef just minutes away. With sunny skies roughly 319 days a year, this island opens its welcoming arms to visitors year round with delicious sands that wrap you in luxury and clearest waters that beckon you to dive in.
No. 2
Whitehaven Beach
Australia
Whitehaven Beach will make you believe in love at first sight. Composed of 98-percent silica, the sand here is some of the whitest on Earth. But the baby-powder-like sand isn't all that makes every visit to this piece of paradise one to remember. Visitors can only access this 7 kilometers of coastline along the warm, clear waters of the Coral Sea by helicopter or seaplane to experience this spectacular island. Seeing all of that untouched natural beauty from above will make you believe in a tropical utopia with glowing sands and crystalline beaches. Situated on Queensland's Whitsunday Islands with an always comforting 27°C temperature, this stretch of sand backed by tree-covered mountains is a heaven on earth which one must see to believe.
No. 3
Anse Lazio
Seychelles
Anse Lazio in Seychelles places each visitor into their own tropical paradise with soft, golden sand and sunlit atmosphere. Crystal clear water and lush coconut palms backed by granite boulders create a setting that feels more like a dream than real life. Anse Lazio is recognized as one of the most beautiful beaches in the world, known for its picturesque views and vivid colors. The saturated waters wrap each swimmer in a teal dream while the dark green palms frame the golden sunset. The magnificent stretch of coastline offers a tropical oasis for every traveler whether they prefer vigorous activities or serene environments. Waters at an average 27°C draw visitors in for days spent snorkeling and swimming while the warm 28°C weather presents the perfect opportunity for exploration, activities, or a rest on pillow-like sands with a mimosa in hand.
No. 4
Pink Sands Beach
Bahamas
Pink Sands Beach has a fairytale-like name, and you'll understand why when you set foot on the beautifully colored sands. The nearly 5 kilometres of stunning coastline, saturated in golden sun and pink plush ground, will plant itself in your memory forever. Harbour Island in the Bahamas is home to inviting stretches of coastline and mellow waters protected by an offshore coral reef. This portion of the island is an especially dreamy part, known for its pale pink sand made from the bright red and pink shells of the microscopic Foraminifera insects. The color contrasts and meshes with the turquoise waterline, creating sunrise and sunset colors that are unlike anything else you'll see in your lifetime.
No. 5
Navagio Beach
Greece
Navagio Beach in Greece will dazzle your tropical dreams into reality as blue and white beauty immesh to create a shipwrecked oasis. In fact, you will not be able to get the clear, crystal blue waters and fine gravel sand off your mind for decades to come. The remoteness of the island only adds to the spectacular and unique atmosphere of Navagio on Zakynthos Island. The baby blue waters and towering golden cliffs absolutely enchant travelers with its exotic features and atmosphere. The shipwrecked Freightliner MV Panagiotis, washed on the gravel beach, only adds to the uniqueness of the paradise. The crisp 19°C weather and 20°C water welcome visitors into a new kind of tropical island meant to be experienced through vivid sights and slow strolls. Ethereal views capture your attention as you travel to the beach by sea, slowly becoming overawed by the beauty of this small island.
No. 6
Baia Dos Porcos
Brazil
Tucked away in the Fernando de Noronha archipelago is Baia Dos Porcos, also known as the "Bay of Pigs," one of the most awe-inspiring beaches to experience. The myriad of blues meddle in perfect harmony on the still water filled with rock formations, including the iconic "Dois Irmaos" rocks which means the "two brothers." Even better – the beach is likely to be all yours, as it requires a trek to get to, and you have to pay per day to stay on the island, limiting the number of daily visitors. Water sports are forbidden – which means it's all serenity, all the time. Instead, search for the turtles and wildlife that inhabit the area and find yourself in preserved and natural beauty.
No. 7
Playa Paraiso
Mexico
Playa Paraiso in the Riviera Maya is a quintessential beach destination for travelers on the hunt for perfection. Stunning white sands and bright teal waters combine to create a beach unlike others in Mexico. The thousands of annual tourists will agree that Paraiso's waters are always welcoming and calm while a bounteous coral reef rests just offshore for an adventurous snorkeling or scuba diving session. For those who want a tranquil getaway, Paraiso is their paradise with soft sands just waiting to be relaxed on while the 290 annual days of sun offer a sun-kissed glow. With an average temperature of 20°C and water at 21°C, visitors are always able to find themselves comfortable and serene in their tropical paradise.
No. 8
Hyams Beach
Australia
No place on earth invites you to relax and unwind quite like the luxuriously soft white sands of Hyams Beach. Located on the South Coast of New South Wales, this postcard-worthy stretch of sand along the Jervis Bay invites visitors to enjoy underwater adventures in crystal waters or sink their toes into the whitest sands in the world according to the Guinness Book of Records. For the more athletically inclined, hike in the Jervis Bay National Park located amongst the beach beauties. Dotted with rugged rock formations and bright green foliage, you may have to pinch yourself to make sure you are not dreaming when you set foot on the luxurious sands of Hyams Beach.
No. 9
Hidden Beach
Mexico
Imagine a beach completely tucked away inside a cave with a cavernous opening in the roof to let the perfect amount of sunlight enter. That is Mexico's Hidden Beach, and it's undeniably one of the most interesting beaches in the world. Located just a 1-hour-long boat ride from Puerto Vallarta on the Islas Marietas, the only way to reach the golden sand at Hidden Beach is to jump off a boat and swim or kayak through a tunnel to shore. It is said that the hole in the roof of the cave, creating an ideal sunbathing area, was made when Mexican forces were engaging in bombing practice during World War I. Despite the hole's not-so-natural creation, the result is one of the most awe-inspiring stretches of sand in the world. With only a few visitors allowed on the beach at one time, you will get to experience the lush beauty and exquisite scenery in an intimate setting hidden from the world.
No. 10
Trunk Bay
US Virgin Islands
Trunk Bay's beauty has been so life-changing to so many people that it was donated to the National Park Service more than five decades ago. Today, it remains one of the best-preserved beaches in the world. Venture to Trunk Bay Beach in the US Virgin Islands, where you will find a 205 meter underwater snorkeling trail, roughly a half mile of silky sands and a number of different amenities to make your visit that much more enjoyable. Trunk Bay's clean and clear waters offer ample opportunities for snapping photos of colorful sea creatures while the smooth coral sands invite weary travelers to throw down a towel and unwind. The tropical location presents an accessible beach escape open to thousands of travelers on the hunt for a perfect playground. You can even travel without luggage to the US Virgin Islands by using Luggage Free.
For more information and to discover other stellar beaches visit, flightnetwork.com