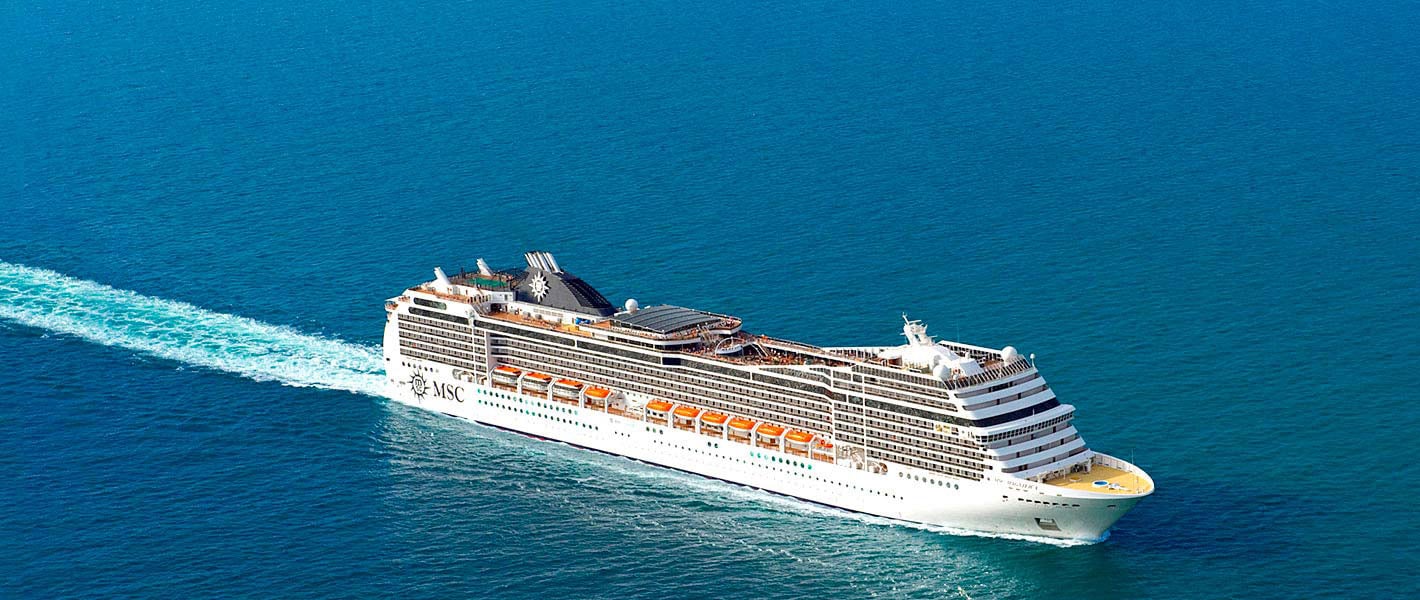 Posted December 5th, 2016
Take the trip of a lifetime with MSC Cruises new around-the-world cruise.
If you've ever dreamed of traveling around the world, Swiss-based MSC Cruises now makes it easier than ever to do it. They're launching a first-of-its-kind around-the-world cruise in 2019 that visits 32 countries on six continents, calling on 49 destinations.
You'll begin your journey right after ringing in the New Year, on Jan. 5, 2019 in Genoa, Italy. From there, the ship travels east to Marseille, France; Barcelona and Malaga, Spain; and Funchal, Portugal before it sets off for five days at sea on its way to the Caribbean. At that point, the adventure is just beginning, the itinerary includes other exotic destinations like the archipelago of Tonga, crystal blue waters of Bora Bora and oasis of Aqaba.
You'll also be able to take part in excursions that range from riding the elephants of Pinnawela, snorkeling in the lagoons of Moorea or touring the Nga Bay National Park. And with all that time, you'll be able to explore many of these destinations more extensively that most cruises. Extended in-port stays include four full days in Polynesia and three full days in both Hawaii and Los Angeles.
MSC Crusises utilizes the MSC Magnifica for the long haul. The ship was built in 2009 and boasts four restaurants and 11 bars. It also includes one of the highest ratios of balcony cabins. On board you can also enjoy wide variety of world class entertainment offerings including a full-scale casino, panoramic discotheque, cigar lounge, 4D cinema and much more, including their award-winning MSC Aurea Spa that offers traditional Balinese massages, ultramodern beauty treatments, a sauna, Turkish bath and thalassotherapy room.
Most around-the-world travel is done by air and through agents like AirTreks, World Travellers' Club and Ticketsroundtheworld. The Four Seasons also recently launched luxury around-the-world trips on their special private jet. And National Geographic Expeditions also offers an around-the-world tour tailored to their audience. While MSC isn't the first cruise line to offer an around-the-world trip they most that they are providing, "an itinerary like no other available in the market."
You also can make your travel more turnkey by shipping your luggage directly to the cruise ship. All you have to do is contact Luggage Free and arrange a time for one of their valets to pick up and package your luggage. Once you walk into your stateroom, it will be there waiting for you — without any hassle or heavy lifting on your part. Luggage Free event accommodates shipping baggage internationally. On your way home, they will meet you at the pier as you disembark. You can give them everything you've collected along the way to be shipped back to your home, and you travel back effortlessly.
If you find the free time, manage a gap year, or are easing into retirement, booking starts on December 14 for the general public. Tickets for a basic room run $16,000. For those in the MSC Voyagers Club, you can start booking now.
For more information, visit MSC Cruises
Photo courtesy of MSC Cruises