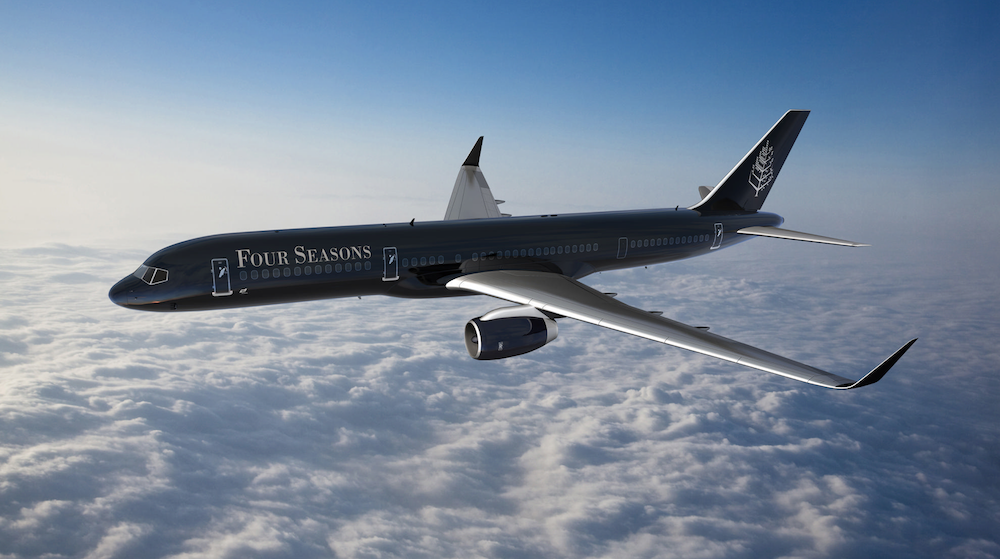 Posted May 13th, 2016
The journey is just as exciting as the destination for the brand that signifies luxury across the globe. Four Seasons takes their hotel and resort comforts from the ground to 40,000 feet with their Four Seasons Private Jet experience, which pairs luxury flights with signature stays at Four Seasons Resorts. The globe-hopping encounter debuted in 2015 and finishes out this year with three packages themed to adventure, culture and international intrigue.
Each vacation includes air travel and ground transportation, planned excursions, all meals and beverages, and top accommodations at Four Seasons hotels and resorts around the world. Your journey begins in the air. The Four Seasons gutted and fitted their Boeing 757 with a first class-dedicated cabin that includes 52 hand-crafted Iacobucci flatbed seats laid out in a 2 x 2 configuration, 78 inches of personal space, hand-woven woolen carpets and relaxing bi-color lighting. Each passenger also receives their own luxe provisions, including vintage Dom Pérignon Champagne to sip at will, Bose noise-canceling headphones, an iPad and free on board Wi-Fi (in the event you're not taking advantage of the on-demand entertainment system).  In flight, a Journey Manager, an Assistant Journey Manager, a Four Seasons Concierge and a Four Seasons Chef will cater to your every need along with a full airline crew. The Executive Chef crafts unique meals for each flight, featuring multiple selections of starters, mains, sides and desserts to create meals that reflect their destinations.
The remaining months of 2016 offer three dynamic experiences:
International Intrigue: An Around the World Journey
April 14 – May 7
$132,000
This journey spans eight countries and four continents, taking you to some of the world's most eclectic and intriguing destinations that include Tokyo, Beijing, Maldives, Serengeti, Istanbul, St. Petersburg, Marrakech, Seattle, and Boston. Activates range from exploring the Tsukiji Fish Market and its specialty shops in Tokyo, to China's Forbidden City and Great Wall, to scuba diving vibrant reefs in the Maldives. Half way through the trip, you'll safari in the Serengeti observe lions, leopards, Cape buffalos, elephants and rhinos up close, before jetting off to opulent St. Petersburg, and culminating in thrilling Marrakech to browse its legendary souks.
Extraordinary Adventures: An Around the World Journey
Sept. 17-Oct. 11
$137,000
This adventure themed-itinerary is new this year and aimed at the luxury traveler who's still a thrill-seeker at heart. Discover the world with stops at far-flung destinations like Langkawi, Mauritius, Serengeti, Petra and the Dead Sea, and Lisbon. Costa Rica, Sydney, Austin, Hawaii. Your adventure includes everything from rock climbing in Malaysia, zip-lining in Costa Rica, surfing in Hawaii and rum tasting Mauritius.
Cultural Escape: Europe, Middle East and Africa
November 4-22
$106,000
See the best of the world's cultures with this incredibly diverse itinerary that has stops during its 19-day journey in London, Petra and the Dead Sea, Dubai, Seychelles, Serengeti, Florence and London. You'll depart London for the lost city of Petra to indulge in your own private Indiana Jones hommage before jetting off to float in the Dead Sea. You'll also hit the 122nd floor of the Burj Khalifa in Dubai as you dine in the world's highest restaurant and finish your journey in Florence, the birthplace of Renaissance culture.
photo courtesy of Four Seasons Hotels and Resorts