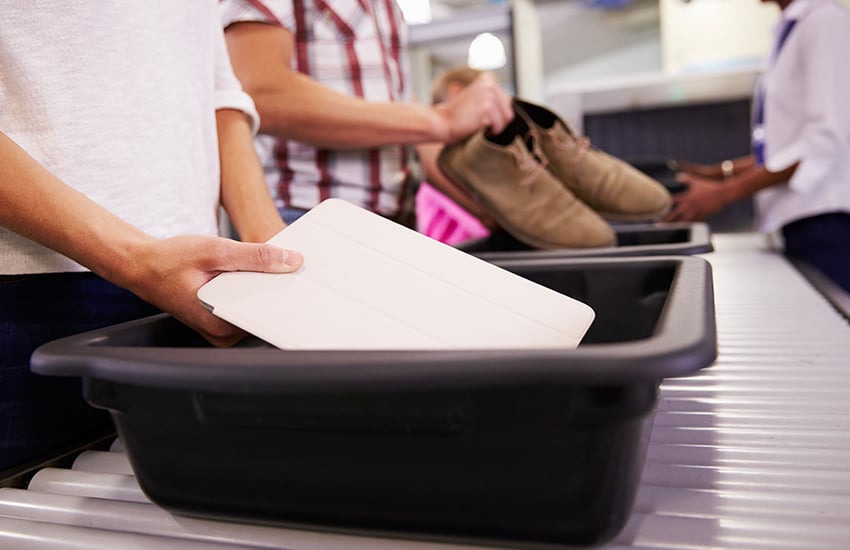 Posted June 3rd, 2021
Battling through crowds and rushing to your gate is one of the worst aspects of traveling. And with absurd wait times at TSA, knowing how to get through airport security faster is crucial in ensuring your trip isn't ruined before it's even begun. If you're ready to streamline the way you travel and learn how to get through airport security faster, we've found the top 10 ways to minimize time at TSA and maximize relaxation as you journey to your destination. 
Learn How to Get Through Airport Security Faster
1. Research Rules Before You Pack
TSA has an extensive list of prohibited items. With that in mind, it's best to research what items you can and cannot include in your carry-on or checked baggage. Ensuring you've included only the permitted items is one of the best ways to get through airport security faster. 
2. Send Your Luggage Ahead
The root of all the stress and chaos of the airport? Baggage. And with Luggage Free, you can eliminate baggage entirely. Luggage Free is the world's premier luggage shipping provider, allowing you to ship your luggage and sporting equipment to 180 countries worldwide. Travelers can have their luggage collected from their residence, business, or hotel before departing for their trip. And, upon arrival, they'll find their baggage already there. Each shipment also comes with complimentary value protection, an on-time delivery guarantee, and access to a personal travel concierge seven days a week. 
3. Map Out the Airport
Large airports can be confusing with a maze of terminals, parking lots, walkways, and more. To avoid getting lost along the way, it's best to research the airport you're departing from so you'll know exactly where to park or be dropped off, where to check-in if you haven't done so online, where to find TSA, and where your gate will be. 
4. Register for TSA PreCheck
Signing up for TSA PreCheck is one of the most reliable ways to get through airport security faster. The luxury addition isn't available at all airports, so keep that in mind when planning for your trip. But, when the service is included, you can enjoy the benefits of a dedicated security line in which your shoes, belt, jackets, and more may remain on and liquids and electronics may remain stowed inside of your baggage. 
5. Know-How to Dress
If you haven't signed up for TSA PreCheck, be prepared to remove your shoes. It's best to invest in slip-on shoes to avoid holding up the line lacing your shoes back up after progressing through the line. Belts and jackets must also be removed. If you must wear either of these items, remove them while you're waiting in line to walk through the security checkpoint.
6. Prep Paperwork Ahead of Time
In most cases, proof of identity and your boarding pass is required by the TSA agent before progressing through the security checkpoint. Be sure to have these items readily available, and not at the bottom of your purse, to get through airport security faster. 
7. Pick Your Line Strategically
Some TSA lines simply take longer than others. Be sure to observe what type of travelers are in each line before picking yours. For example, ten business travelers are likely to get through airport security faster than a family traveling with their children. 
8. Know What Goes in the Bins
You're required to remove electronic devices and liquids from your luggage. With this in mind, it's best to pack these items in a convenient location like an outer pocket of your luggage for easy removal and re-packing once you've made it through the line.
9. Be Friendly
While TSA can seem a tad chaotic, it never hurts to be polite and friendly to the agents at security checkpoints. Keep in mind, they deal with thousands of passengers a day. Should you have any questions or concerns, a little politeness can go a long way. 
10. Fly Early
Flights departing in the afternoon or evening on Fridays are likely to be significantly busier with individuals traveling over the weekend. Consider traveling outside of peak times to move through airport security faster.