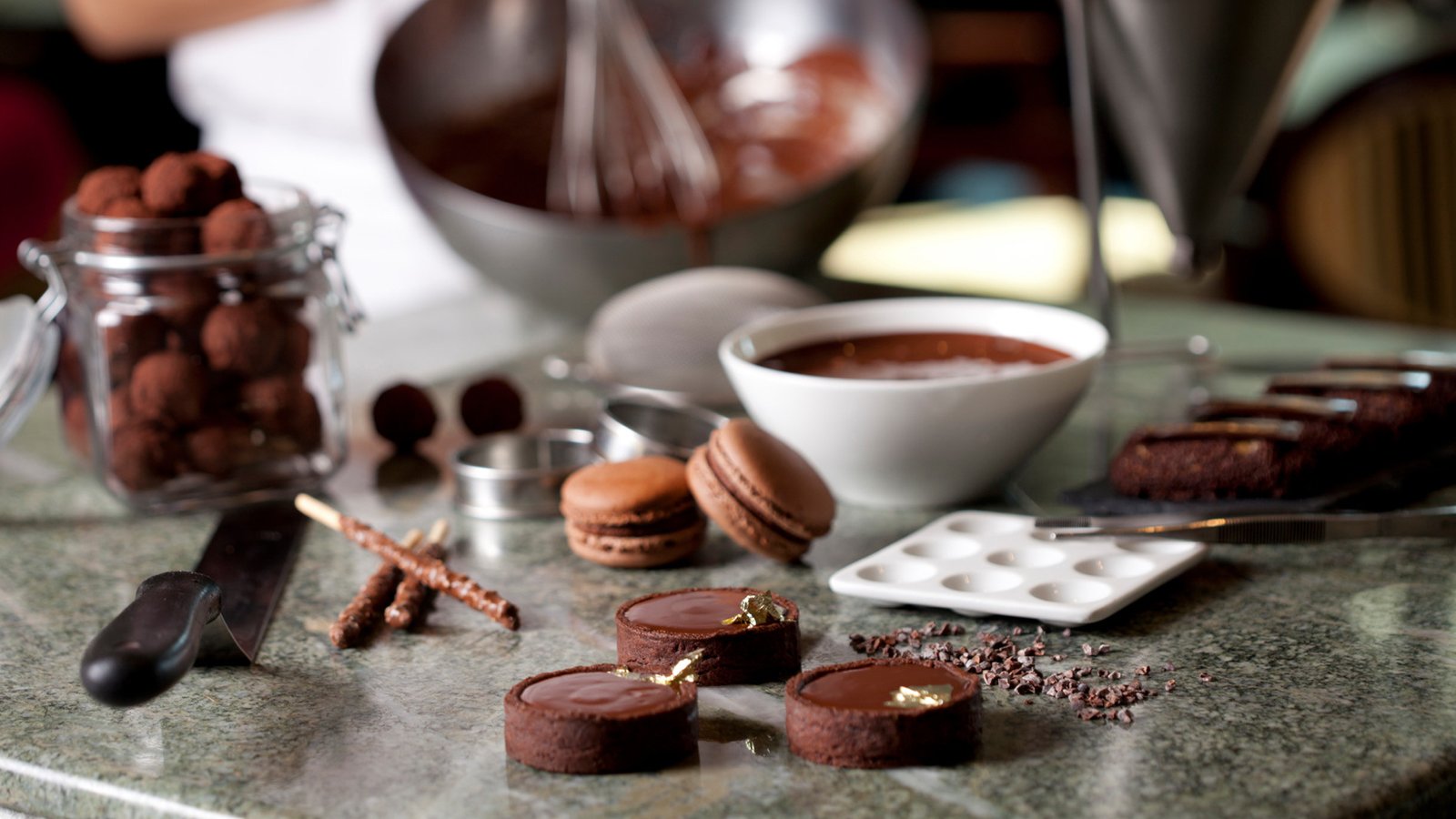 Posted August 21st, 2017
From a barbecue extravaganza to a smorgasbord of chocolate, eat in luxury at these hotels this fall.
Dining and traveling go hand-in-hand. After all, what better way is there to experience the flavors of a destination? This fall these three feasts are the destination — with a star-studded barbecue, inside experience of one of the world's best culinary destinations, and an unparalleled chocolate extravaganza.
Check into Hotel Bel-Air in time for an end-of-summer barbecue extravaganza on September 13. Master chef Wolfgang Puck is joined by returning chefs Francis Mallmann (Los Fuegos), Nancy Silverton (Mozza Restaurant Group), and Eric Werner (Hartwood), along with newcomer Dave Pynt (Burnt Ends) for the ultimate barbecue party on the hotel's front lawn. Hotel Bel-Air is situated on 12 acres of landscaped gardens and draws a well-heeled clientele from around the world. Guests will dine at communal tables on the lush hotel grounds, while each chef showcases their individual approach to barbecue fare, from Texas slow-cooked meats and spicy flavors of Kansas City's signature sauces, to the unique smokey flavors of Australian barbecue. The chefs will also join the evening's festivities and personally sign cookbooks available for purchase that evening. This event is part of Hotel Bel-Air's visiting chef series, which continues this fall with a dinner on November 15 from acclaimed chef Daniel Humm of Eleven Madison Park.
Known for its famed night markets, Hong Kong is one of he most sought-after foodie destinations in the world. This fall you can indulge your taste buds there with the Ritz-Carlton, Hong Kong with "Flavors of Hong Kong Package" that gives you and your stomach a first hand taste of the city from cha chan tang or Hong Kong teahouses to elevated and refined dining experiences. The hotel is perched on floors 102-118 in the West Kowloon district's International Commerce Center and overlooks Victoria Harbour. The package includes overnight accommodations in a Deluxe Victoria Harbour Room; a welcome note and locally inspired amenity from the hotel's chef; dinner at the hotel's one-star Michelin Italian restaurant Tosca; a glass of Hong Kong Skyline — the signature cocktail at Ozone; and round-trip limousine transportation from and to the hotel on a pre-arranged afternoon tour.
Not many people need an excuse to indulge in chocolate delights, but setting aside a day to celebrate the confection is as good as any. At Four Seasons Resort Orlando at Walt Disney World Resort, executive pastry chef Rabii Saber has prepared a delicious assortment of desserts, and will showcase his award-winning "Curtain Rise" chocolate cake on September 13. In addition, the resort will welcome master sommelier George Miliotes for the event, who will present dessert wines and specialty drinks to accompany the sweet smorgasbord. Chef Saber was recently invited to participate in the Coupe du Monde de la Patisserie (often referred to as a "Pastry Olympics") in Lyon, France in January 2017, where Team USA took home 4th place overall. His stunning chocolate cake called the "Curtain Rise" took home the highest honor in the chocolate category. The special cake features several layers: a thin, crispy layer of chocolate with pieces of caramelized hazelnut; two layers of chocolate sponge cake; a delicate layer of Caraibe chocolate cremeux; and a layer of coffee bean crème brulee. The entire cake is wrapped with a thin chocolate glaze. In addition to the Curtain Rise cake, guests will experience confections including hazelnut and chocolate kisses, peanut butter and jelly choux pastry, chocolate olive oil tartlet, five-spice blueberry cheesecake, passion fruit baba cake, and matcha and black sesame lollipop.