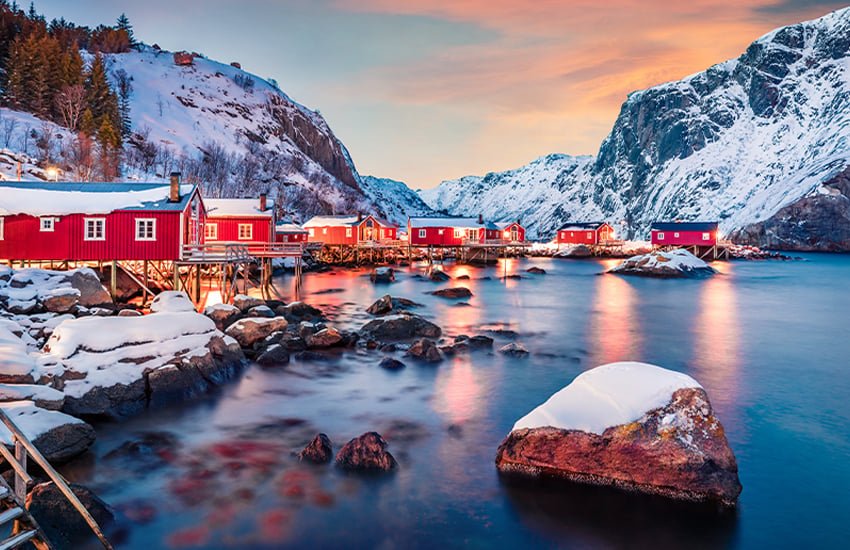 Posted December 20th, 2022
Winter is all about spending time with family and friends, hitting the slopes for skiing and snowboarding, shopping among the holiday markets, and cozying up next to your special someone in front of a roaring fire. What could be better? Read more about the best countries to visit during December to experience the true magic of the holiday season.
These Are the Best Countries to Visit During December
Italy
Italy is known for its pasta, pizzas, and wines, but there's far more to enjoy in this fabulous country beyond the dinner table. If you're interested in skiing or snowboarding this winter, Italy is certainly one of the best countries to visit during December. There are dozens of world-class ski resorts with pristine terrain, luxurious accommodations, and delicious cuisine. Christmas markets can also be found in abundance throughout the country along with other festivities and holiday traditions. 
Norway
Immerse yourself in the holiday spirit and the beauty of winter with a December getaway to Norway! Experience the country's charming Christmas markets, take a one-of-a-kind journey by train, partake in cross-country skiing, and so much more! Nights are also longer in December which means the opportunities to witness the stunning Northern Lights are at their peak.
Scotland
December is one of the best times of year to visit Scotland. It's technically the off-season, which means you'll enjoy more affordable prices and far fewer crowds. There's typically a dusting of snow across the Scottish countryside, too, which makes the scenery absolutely breathtaking. Scotland is also home to several medieval castles and Victorian homes that are easy to reach and certainly worth exploring.
Japan
Winter in Japan is synonymous with ideal skiing and snowboarding conditions. This is just one reason it's one of the best countries to visit during December. Thanks to its deep, dry snow, powderhounds flock to Japan to experience the legendary conditions year after year. Several ski resorts also offer fabulous nightlife, tasty cuisine, and anything else you'd wish for on your winter vacation.
Canada
Skiing, snowboarding, snowmobiling, ice skating, snow tubing, snowshoeing – you name it, Canada has it! This winter wonderland is one of the best countries to visit during December to take full advantage of the snowy season. 
The best countries to visit during December await you! Travel stress-free and luggage-free when you ship your luggage ahead.