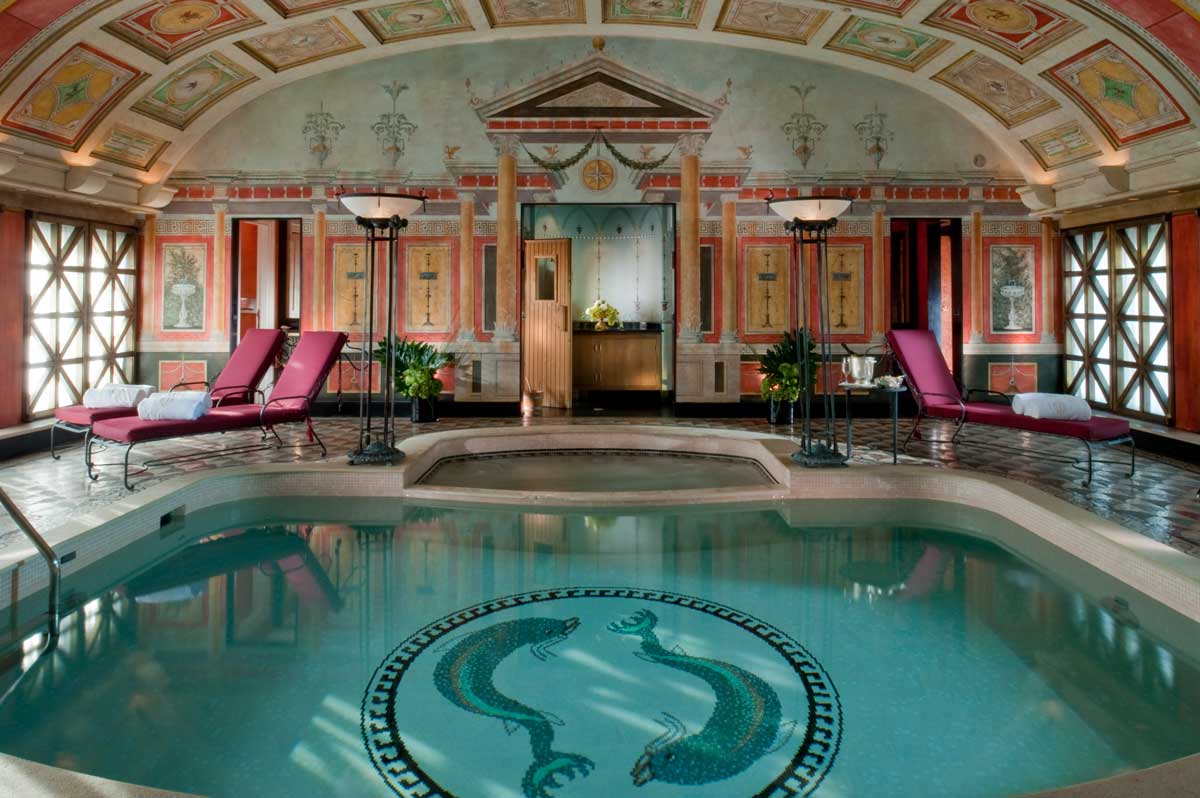 Posted February 20th, 2017
To classify these hotel penthouses, suites, and bungalows as mere rooms is an understatement; they are destinations unto themselves boasting everything from private pools to cascading waterfalls.
Ty Warner Penthouse, Four Seasons New York
The crown jewel — rising 52 floors above the Manhattan skyline — of the Four Seasons New York remains the most expensive one-bedroom penthouse in North America, and is among the most pricy suites in the world. A collaboration between I.M. Pei, Peter Marino and visionary hotel owner Ty Warner, it took seven years and $50 million to complete. It boasts nine rooms, including the zen room with a continuous waterfall cascading from ceiling to floor on a wall made of green bowenite semi-precious granite sourced from South Africa; spa with with fitness equipment, massage table and spa amenities; and master bedroom with a custom-designed canopy bed, made of Thai silk with 22-carat pure-gold threads, which rests under the cathedral ceiling. The room comes with a $50,000 price tag and also includes unlimited use of a Rolls-Royce automobile and driver, personal training sessions and a dedicated guest relations manager.
Chairman's Villa, Crown Towers – Melbourne, Australia
Make Melbourne, Australia your destination for, what has long been considered the most expensive and luxurious hotel suite in the country. The hotel is Crown Towers, and the room is the 10,800 square-foot old Hollywood-themed Chairman's Villa, which will set you back $14,500-$20,000 per night. The villa is decked out with a private gym, massage parlor, a more than 43 square-foot custom-made bed hand-carved Axminster carpets and a dedicated team of butlers. The hotel spared no expense on the room, which also comes outfitted with precious pieces including a $5,800 Eames desk chair and art work from renowned Australian artists Marie Hegarty and Chris Fortescue.
Royal Bridge Suite at Atlantis, The Palm
The iconic hotel—themed after the mythic island—is perched on the apex of Palm Jumeirah, the man-made, palm tree-shaped archipelago in the United Arab Emirates. The design of the hotel boasts two towers, connected by its Royal Bridge Suite, which soars 22 stories above the ground below. The 9,946 square-foot suite boasts unrivaled panoramic views of the Arabian Sea and Dubai's breathtaking city skyline, and features three bedrooms with exquisite ensuite bathrooms, spacious majestic lounge perfect for entertaining, private library, classic game and media center complete with a pool table—not to mention a tranquil massage room.
Presidential Suite, Hotel Principe di Savoia
The presidential suite at the Hotel Principe di Savoia mirrors all the style and glamor of its home city of Milan, Italy. The 5,400 square-foot three-bedroom suite is decked out in French and Italian design with touches of gold, wood and velvet. Every room is filled with art and antiques and the balcony boasts stunning views Piazza della Repubblica. But, real reason you're booking the room is for the Pompeii-style spa, which is crowned with a large private swimming pool, Jacuzzi, sauna and Turkish bath.
Bungalow 22, Beverly Hills Hotel
While it's not perched high up in the air, the 1,200 square-foot Bungalow 22 at the Beverly Hills Hotel flaunts the refined distinguished style of frequent hotel guest, Frank Sinatra. When you step into the entryway, you feel transported back to Palm Springs in the 1970s. You are greeted with and expansive and open parlor, featuring lounge-style seating in a social ambiance and a Yamaha piano. The modern and contemporary décor of the one-room bungalow features leather-wrapped columns, a stone and leather fireplace mantle, extensive use of wood (think Douglas Fir ceilings and walnut furniture), desert colors and earthy neutral tones. Also find a fireplace on the two private terraces off the living room.
Photo courtesy of Hotel Principe di Savoia