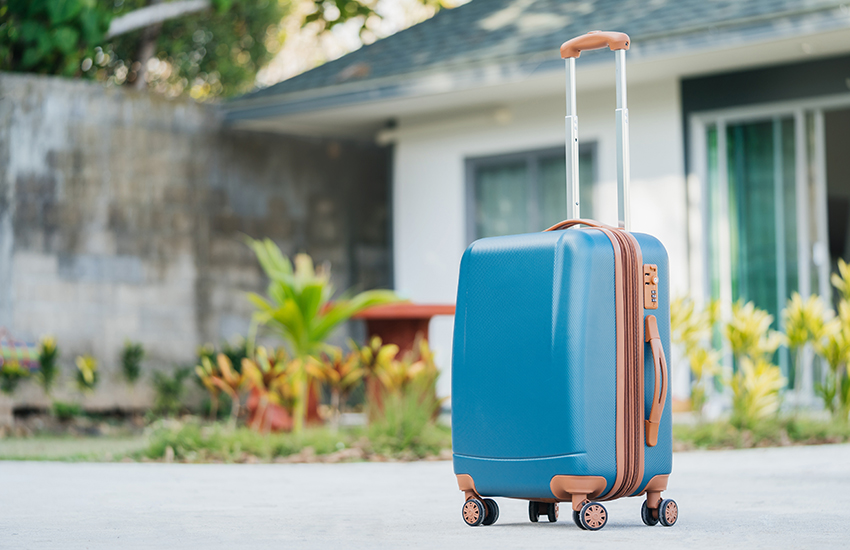 Posted June 30th, 2021
From carrying your baggage through the airport to waiting hours for it to be returned to you at baggage claim, traveling with baggage is almost always a hassle. But, mailing luggage with Luggage Free allows you to travel with the comfort of knowing your baggage has already safely arrived at your destination.
But, mailing luggage isn't just convenient. It also saves you money on checked or oversized baggage fees and eliminates the possibility of damaged or lost baggage on the airlines. Ready to give it a shot? Here's how to mail luggage in three easy steps. 
How to Travel Bag-Free to Your Destination
1. Place Your Order
Mailing luggage to your destination starts by placing your order online or over the phone with a personal travel concierge. Shippable items include luggage, boxes, trunks, and various pieces of sporting equipment like golf clubs, skis, and snowboards. When it comes time to place your order for mailing luggage, you'll simply need to know your origin and destination addresses, how many and what type of items you'll be shipping, and when you'd like them collected and delivered. 
2. Pack Your Luggage & Sporting Equipment
When packing in preparation for mailing luggage, simply take note of the prohibited items that must be removed from your baggage before shipping. Be sure to close any outer zippered pockets and securely attach your provided shipping label to your bags. When mailing luggage, it must be packed in a duffle bag, roller suitcase, or box.
3. Travel Bag-Free
Mailing luggage allows you to breeze through the airport. Simply travel with a book, purse, or backpack and bypass the long lines and crowds at bag-check and baggage claim. You also won't have to worry about overhead space, or a lack thereof, when mailing luggage. All shipments come with access to 24/7 tracking and an on-time delivery guarantee for peace of mind as you travel to your destination.