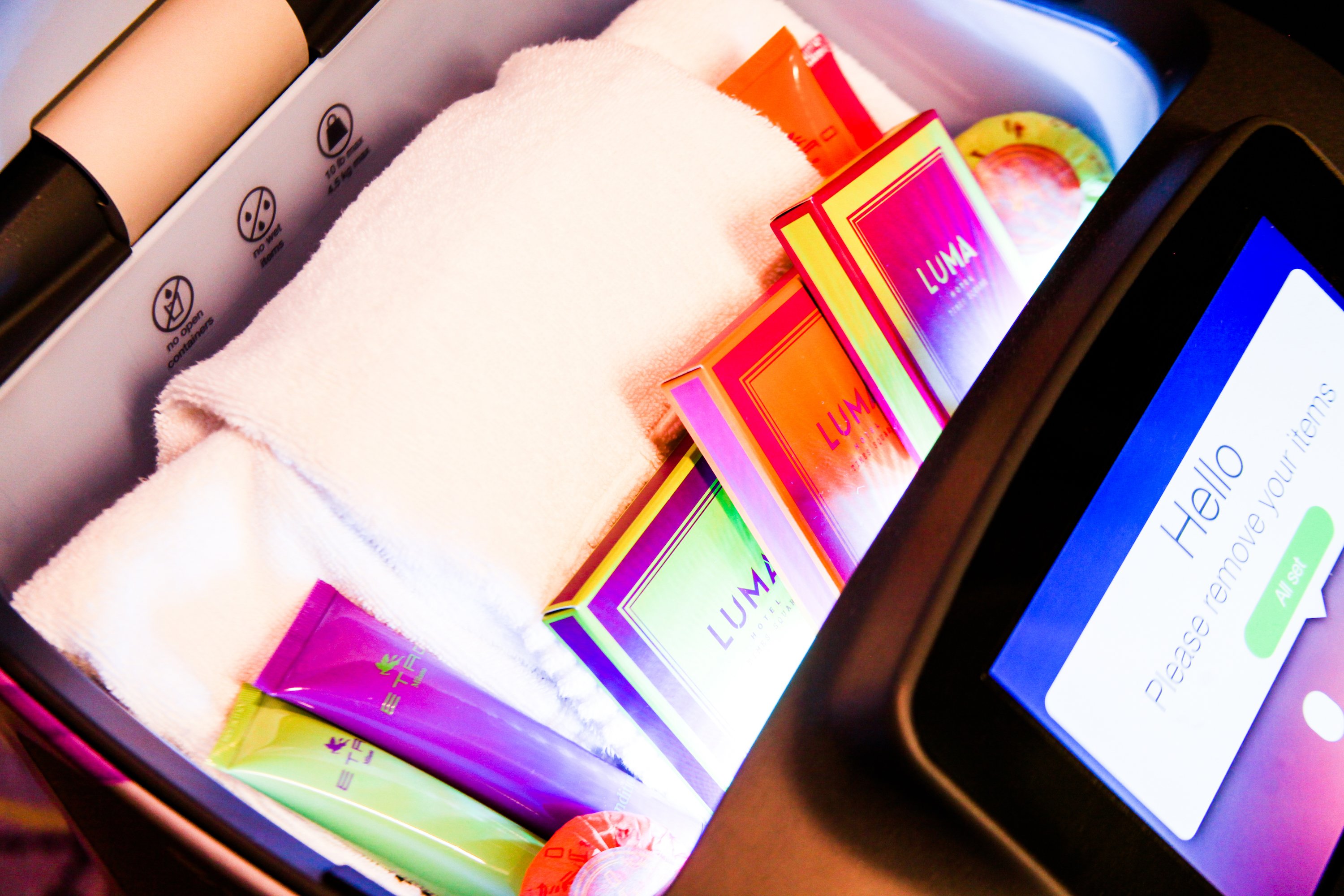 Posted November 20th, 2017
Already on the cutting edge of high tech guest experiences, LUMA Hotel Times Square unveils Alina.
Hotel hospitality comes in many forms, from keeping track of all your personal preferences to going above and beyond to deliver surprising delights. Manhattan's LUMA Hotel Times Square — a newly built property located on 41st Street between Broadway and Avenue of the Americas in the heart of New York City — is going high tech with their guest services by introducing Alina.
Alina isn't a social concierge or personal assistant; at three feet tall, weighing less than 100 pounds, she's the first hotel robot butler in the city. Her name comes from he ancient Greek word for "light," and her advanced technology equips her to fulfill and deliver guest requests directly to LUMA's 130 guestrooms, providing a seamless, convenient, and novel experience. She even has her own hashtag — #AlinaMoments.
"We're thrilled to introduce our Relay robot Alina and to enhance our guest services," said Kate Martin, General Manager of LUMA Hotel Times Square. "At LUMA, we aim to use technological innovations wherever possible to help increase productivity for both our staff and guests. It's exciting to be part of this new venture."
Inside Alina, there are two changeable trays, allowing her to deliver items of all sizes to guestrooms. She can deliver smaller items such as bathroom soaps and toothpaste, as well as larger items like linens, food and beverages.
That's right. Room service — provided that your order fits inside her and can be packed without any damage.
Here's how Alina works: When you have a request, LUMA team members fill Alina with the necessary items and enter in your room number. The robot then leaves the docking station to travel to your room, wirelessly operating the elevator. Relay robots like Alina use 3D cameras and multiple sensors to safely navigate hotel hallways, avoiding people and other objects. Once Alina arrives at your room, she calls the in-room phone. When Alina completes her mission, she automatically returns to her charging dock, located in the lobby.
This isn't the only high-tech innovation at the hotel. Each guestroom has extremely fast Wi-Fi, complete with their own wireless access point as well as a Ruckus AP. Also, the guestrooms are equipped with a Samsung Reach platform, which allows the hotel to store/present information via the TV instead of having the traditional printed compendium. Additionally, each room is furnished with roller shades provided by Lutron Hospitality Shading Solutions; transforming the guest experience with the push of a button.
"It's an exciting milestone to see a Relay robot for the first time in a Manhattan hotel and we're thrilled to debut in New York City at LUMA Hotel Times Square, one of the most innovative, tech-forward hotels today," said Steve Cousins, Founder and CEO of Savioke, the company that designed Alina. "We're sure Alina will help all of the hotel's associates work more efficiently, and delight everyone she meets in the Big Apple."