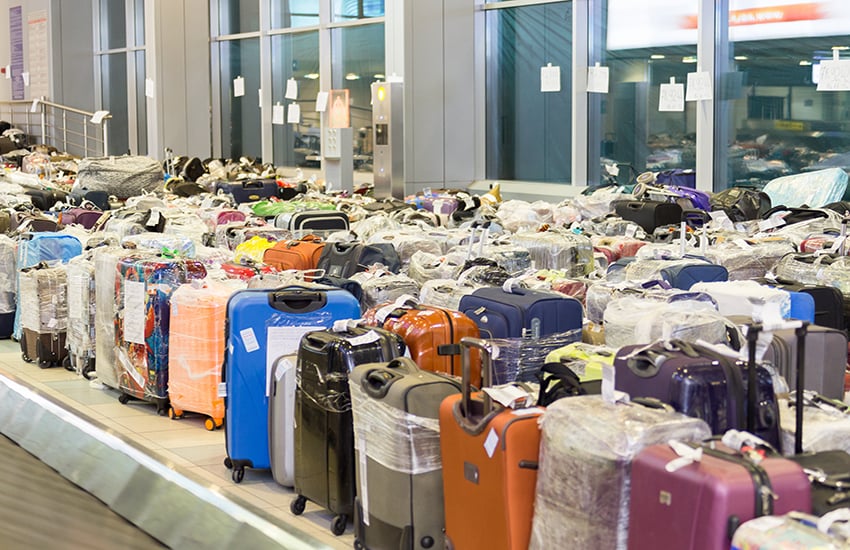 Posted August 31st, 2022
It's truly been a great summer for travel. So great that an estimated 80% of Americans plan to or have already taken a summer vacation. This equates to roughly 100 million people! We're undoubtedly seeing a massive bounceback in the travel industry since 2020 and the onset of the COVID-19 pandemic. But, there are some not-so-great numbers involved, too. Take 220,000 for example. 220,000 is the number of bags that were mishandled by U.S. airlines in April alone. Or, take 200%. That's the rate of mishandled airline baggage complaints up 200% from pre-pandemic levels. 
As travel continues to gain momentum, insurmountable staff shortages and a colossal lack of baggage handlers mean the airlines simply can't keep up. 
Delta found their band-aid to the baggage pandemonium by chartering a plane to transport more than 1,000 pieces of luggage stranded at Heathrow Airport back to the United States. No passengers were aboard… just luggage that had been lost for weeks. 
Arguably even more shocking was the scene at Edinburgh Airport. Overwhelmed by travelers visiting St. Andrews for the recent Open Championship, hundreds, if not thousands, of suitcases and golf clubs were left unattended in and around the airport. Even outside.
Take an inside look at the airline baggage nightmare across the globe…
In Berlin, Germany:
it's interesting to see how AirTags are becoming an essential product for traveling with checked luggage this summer

this is a pic from reddit of the BER airport "lost luggage" warehouse https://t.co/eyy16JrJxz pic.twitter.com/8UYur6eioE

— Azad Balabanian (@Azadux) August 22, 2022
In Vancouver, Canada:
In Vancouver Airport no sign of my luggage checked in at Yellowknife. There's luggage everywhere abandoned on carousels that obviously should be in another city. pic.twitter.com/Flhknly8hZ

— O.R. Melling 🇮🇪 🇨🇦🇪🇺 (@ormelling1) August 29, 2022
In Edinburgh, Scotland:
I am meant to be enjoying some quality time with my family in #Bologna but instead I am looking for my @ryanair luggage for yesterday's cancelled flight from @EDI_Airport in a car park full of dismayed tourists. @VisitScotland I don't think this is quite the image we want? pic.twitter.com/pq4liwYlRx

— Laura 💙 (@policylaura) July 19, 2022
In London, England:
Lost luggage has a final resting place perhaps….@HeathrowAirport T2…mine's the black one (I think) pic.twitter.com/u0tDMTgFHj

— Stuart Dempster (@StuDempster) June 17, 2022
Most missing luggage does eventually reappear. But, where and when they resurface? Your guess is as good as ours. 
With more travelers and more luggage and no one to sort through it, the airlines are desperate for a solution. In the meantime, let's talk about a solution that's been there all along: Luggage Free. 
Luggage Free offers a door-to-door shipping service for your luggage, trunks, boxes, golf clubs, skis, snowboards, and more. By shipping your luggage ahead as opposed to carrying, checking, and claiming it at the airport, you can avoid that airline baggage chaos that has afflicted so many travelers and ruined just as many vacations.
Luggage Free will come to your residence, office, hotel, or resort at the time of day that works best for you to collect all of your luggage. All shipments are guaranteed to deliver on-time so you never have to go without luggage for a second of your vacation. 
If your luggage has already been lost by the airlines, we know you've been scarred. That's why Luggage Free offers far more peace of mind than they do. All shipments come with $500 of complimentary insurance with the option to insure each item for up to $10,000. Additionally, Luggage Free boasts a team of white-glove travel concierges. They're available seven days a week to assist you but will also track and monitor the progress of your shipments every day.
Now, we've shown you that the luggage free-for-all isn't just limited to the U.S… it's swept the globe! But, don't let that deter you from exploring outside the borders. Luggage Free services 180 countries and territories so you can travel stress-free nearly anywhere. And because customs paperwork can be tricky and confusing, Luggage Free will handle all of that for you, too.
Shipping luggage is seamless, convenient, and used by tens of thousands of travelers. Don't stop traveling just because the airlines have lost your trust. Just start traveling luggage-free.