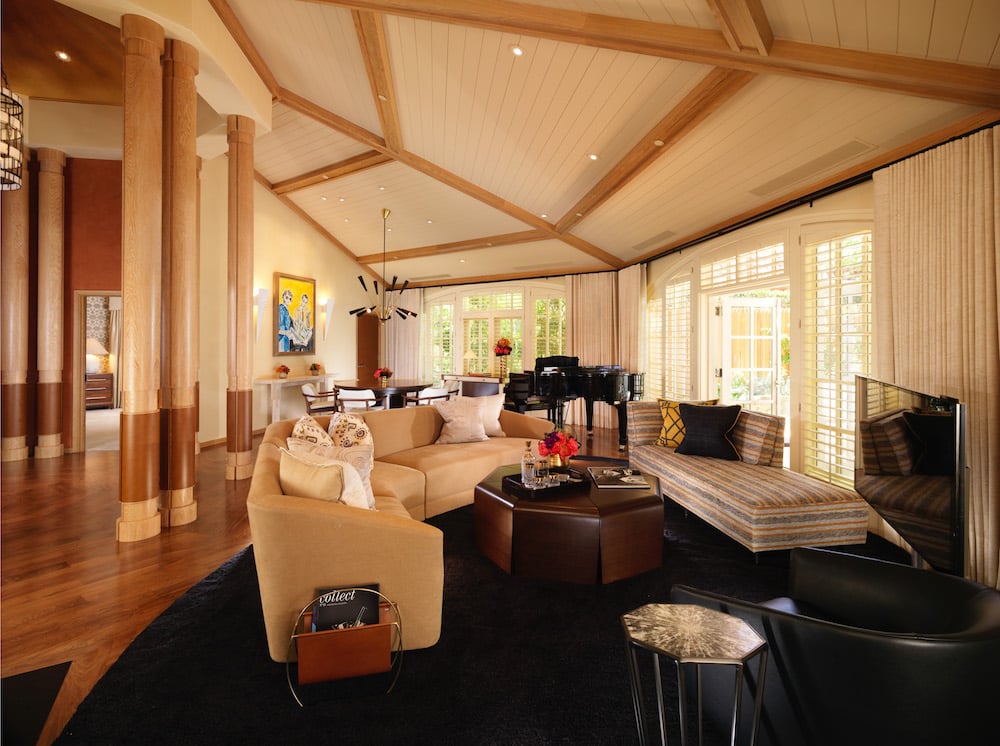 Posted November 7th, 2016
When staying in a hotel room isn't enough, opt for a bungalow at the Beverly Hills Hotel. The iconic luxury hotel in Beverly Hills has just unveiled three newly redesigned bungalows.
Perched at the end of Sunset Boulevard in the heart of Beverly Hills, the iconic Beverly Hills Hotel has been bathing Hollywood's elite and loyal hotel guests in luxury for over a century. Its signature pink facade earned it the nickname "The Pink Palace" for a reason, you feel like royalty the moment you step in the door. Once you're in, find a lush 12-acre campus surrounded by gardens, a sprawling pool (it plays famous movie soundtracks on its underwater sound system) and adjacent Cabana Cafe; the Polo Lounge is a playground for Tinsel Town, while the sublime La Prarie Spa is perfect for pampering.
But if you really want the five-start treatment, you need to check in like many movie starts have before you. The hotel has recently updated its 208 rooms and, most recently, three of its bungalows.
Nearly all the bungalows have a story to tell: Howard Hughes lived on-and-off in Bungalow 4 for 30 years (he also requested that one of his meals of choice, roast beef sandwiches, be left under a tree outside his bungalow almost every night); Marilyn Monroe spent weeks at a time in her favorite Bungalow 7; while Lauren Bacall and Marlene Dietrich each called the hotel's bungalows home for over a year.
Internationally renowned Champalimaud Design spearheaded the bungalow restoration project. Their vision for the renovation was inspired by the hotel's legacy and lush surrounding landscape. They've just finished work on Bungalows 5, 8 and 22.
Walk in the steps of Elizabeth Taylor when you book newly remodeled Bungalow 5 — she spent six out of her eight honeymoons there. The one-bedroom bungalow includes a full kitchen, living room with dining area, fireplace and half bath; master suite, full master bath and powder room; and a large patio with outdoor seating area. Details throughout the space draw on aspects from her life and include whimsical elements inspired by her English roots and most celebrated movie roles. The design features European furniture; a floral mosaic with English sensibilities; and horse-head lamp base Egyptian-patterned cabinet, giving the space a romantic look and feel that is both residential and glamorous.
The femininity and glam of Bungalow 5 are complimented by the dapper masculinity of frequent hotel guest, Frank Sinatra in Bungalow 22. When you step into the entryway, you feel transported back to Palm Springs in the '70s. You are greeted with and expansive and open parlor, featuring lounge-style seating in a social ambiance and a Yamaha piano. The modern and contemporary décor of the one-room bungalow features leather-wrapped columns, a stone and leather fireplace mantle, extensive use of wood (think Douglas Fir ceilings and walnut furniture), desert colors and earthy neutral tones. Also find a fireplace on the two private terraces off the living room.
Keep an eye out for more bungalow updates to come from the hotel throughout 2018.
Photo courtesy of the Beverly Hills Hotel