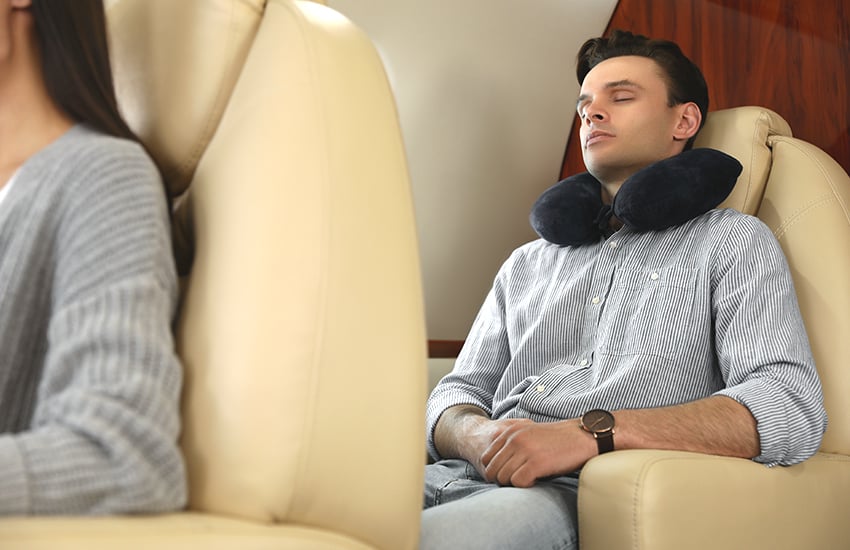 Posted July 7th, 2021
Your vacation day has finally arrived! Unfortunately, before relaxing on a beach or exploring a new city, you first have to tackle long lines and large crowds at the airport. Make the journey to your destination easier than ever and travel in comfort with these expert tips.
5 Tips to Make Flying More Comfortable
1. Select Your Seat
The best way to travel in comfort to your destination is to fly first class. While you may have to spend additional dollars, the luxury of extra legroom and larger seats are worth every penny. If you'd rather save a few dollars, consider selecting a window or aisle seat at the very least to travel in comfort. 
2. Bring Entertainment
Whether it's a crying child or a person with a voice that carries, bring headphones to drown out the noise and travel in comfort. Listen to music, play a game, watch a movie, or read a book. You'll be landing at your destination before you know it. 
3. Ship Your Luggage
When you ship your luggage ahead instead of checking it at the airport, you can breeze through TSA, walk onto your plane bag-free, and travel in comfort. Heading out on a summer golf trip or a winter ski vacation? Ship your sporting equipment along with your luggage and never lift a finger.
4. Opt For Comfortable Clothing
If you're not traveling for business, consider dressing down so you can travel in comfort. You're going to be sitting for an extended time, so be sure to wear something you'll be comfortable in for a couple of hours. Planes can be chilly, so it's best to have an extra sweatshirt or jacket on your person just in case to travel in comfort. 
5. Bring A Pillow
If your flight is going to be longer than an hour or you're taking an early morning flight, you're probably going to feel the onset of sleep as you're waiting to land at your destination. Pack a pillow, a small blanket, noise-canceling headphones, or a sleep mask to cover your eyes to travel in comfort.