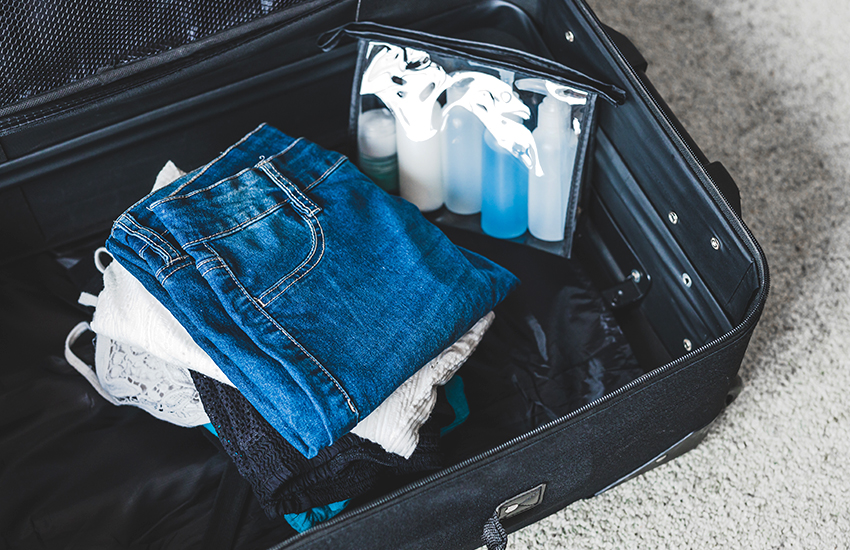 Posted June 30th, 2021
Desperate to travel light on your next vacation but not sure how? Packing light doesn't mean you have to leave your favorite shoes or jacket at home. It simply means being more strategic about what you pack and how you pack it. These are the essentials to include in your luggage on every trip.
Travel Light: How to Pack Only the Necessities
𝤿Tops: Depending on the length of your trip, it's best to pack one shirt for each day you'll be traveling. Consider packing shirts of neutral colors that can be paired in a variety of different combinations.
𝤿Pants: Similar to tops, we recommend packing a pair of neutral-colored pants for each day of your trip to travel light. If you anticipate re-wearing clothing, consider cutting this number in half. 
𝤿Shoes: Pack shoes that you will wear more than once if you're trying to travel light. A fancy dress shoe or sandal may not be a requirement for your trip. A closed-toe shoe or a slip-on is likely going to be worn more than a dressier one. 
𝤿Toiletries: If you prefer to bring your own toiletries as opposed to those provided by your accommodations, be sure to use all travel-sized bottles in order to keep your bags light.
𝤿Paperwork: Download an electronic version or print extra copies of any travel paperwork you may potentially need while on vacation.
𝤿Electronics: While a cell phone or laptop may be essential items for your trip, tablets and video games may not be as important. Consider leaving these items at home to allow for more room in your baggage to travel light.
𝤿Miscellaneous: If you have extra room in your luggage, feel free to use up this extra space if you don't anticipate needing it for souvenirs for your return leg. This space can be used for an extra jacket, another pair of shoes, or additional personal items.
---
Simply follow these simple tips and travel light on every getaway! To travel completely bag-free, ship your luggage and sporting equipment ahead of your arrival. Learn more about luggage shipping or generate a quote today.