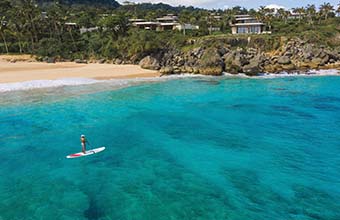 Posted December 7th, 2020
Experience a luxurious vacation with a getaway to these stunning resorts across the globe. Whether it's relaxing poolside in Thailand or exploring the white-sand beaches of the Philippines, a visit to any of these celebrated destinations will make it difficult to return home.
Top Partnered Destinations to Escape to Paradise
Amanera – Playa Grande, Domincan Republic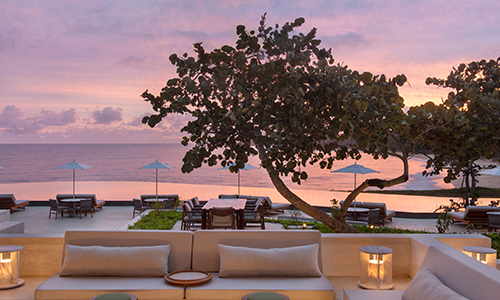 Overlooking Playa Grande beach from a dramatic position on the Dominican Republic's Atlantic Ocean coastline, Amanera is surrounded by jungle and the Cordillera Septentrional mountain range with all-encompassing ocean views. Amanera commands a dramatic location on the Dominican Republic's pristine north coast, alongside the island's most exclusive golf course. Featuring 24 contemporary casitas and one two-bedroom Casa that merge with their lush setting, a sleek, secluded sanctuary provides unparalleled access to the area's incredible outdoors.
Relaxation awaits in many guises, from endorphin-boosting water sports to immersive spa journeys, all subtly infused with the spice and flavor of Dominican life. Guests enjoy fresh local ingredients and island flavors at the ocean-view restaurant in Casa Grande and authentic Caribbean cuisine alongside a refined Mediterranean menu.
Amanjena – Marrakech, Morocco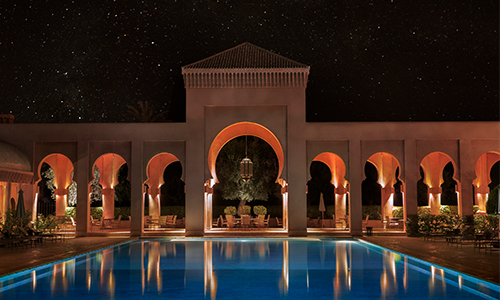 Amanjena ('peaceful paradise') is situated just outside Morocco's Unesco-protected city of Marrakech, set within an oasis of palm and olive trees adjacent to the lush fairways of the Amelkis Golf Course. Moorish heritage is reflected throughout the pisé-walled resort, including 40 pavilions and Maisons that radiate from the reflective basin that lies at the heart of the property. Offering privacy and seclusion, each pavilion has its own garden and gazebo.
Dining includes a traditional Moroccan restaurant along with Italian and Japanese cuisine. Amanjena offers a variety of guided excursions on foot, bicycle, or by private car into the medina, the palaces, gardens, and craft shops of ancient Marrakech. Not far from Amanjena, the stone desert of Agafay is an otherworldly landscape at the base of the Atlas Mountains. Travel by camel across the desert where a private tent awaits. Guests can savor a traditional dinner under the stars gazing up at the constellations once used for navigation and storytelling. 
Amankila – Bali, Indonesia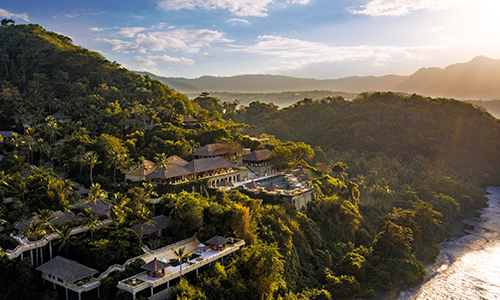 Mount Agung provides a dramatic backdrop for Amankila ('peaceful hill'), a secluded seaside resort overlooking the Lombok Strait in East Bali. The 33 free-standing suites offer exceptional sea views from their hillside settings and are connected to the resort's restaurants and other facilities by raised walkways.
Guests can relax around the signature three-tier swimming pool or at the Beach Club in a tranquil coconut grove. Traditional local techniques are combined with contemporary cooking styles for revitalizing cuisine. Ducks are raised at the resort's free-range farm in Jasri village and herbs are grown in Amankila's garden. Vegetables and exotic fruits are the results of the rich volcanic soil spread beneath Mt. Agung. Situated in Karangasem, one of Bali's most traditional regencies, Amankila offers easy access to untouched countryside, local crafts, and the region's royal past.
Amanpulo – Pamalican Island, Philippines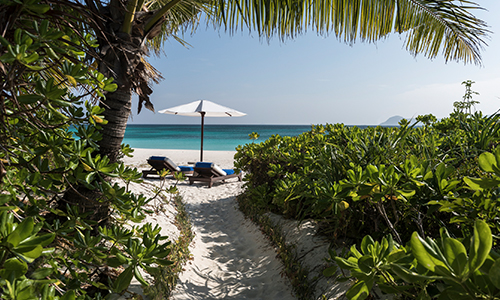 Amanpulo ('peaceful island') on Pamalican is located 288 kilometers south of Manila, offering all the idyllic beauty of a tropical island retreat. Fringed by white-sand beaches, turquoise waters, and a coral reef, the entire island is dedicated to Amanpulo. The resort's facilities include an Aman Spa, a Beach Club, dive center, and main swimming pool, with a spacious design aesthetic complementing the natural surroundings.
Featuring locally-caught seafood and island-grown organic vegetables and herbs, Amanpulo's menus offer cuisines ranging from Filipino and Mediterranean to Japanese. The 42 guest Casitas are situated on the beach, among the treetops, or on the hillside, while the 18 Villas are set on the shoreline. The calm, clear seas are ideal for kitesurfing, while divers can explore the coral reef, teeming with marine life just 300 meters offshore.
Amanpuri – Phuket, Thailand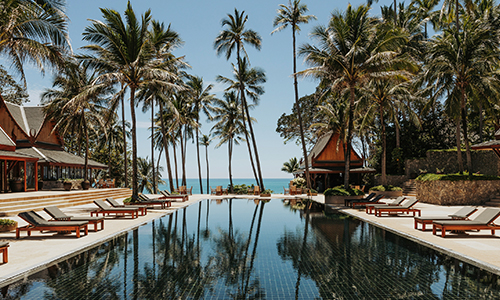 Aman's flagship property and home to the brand's first Holistic Wellness Centre, Amanpuri ('place of peace') reflects the style and elegance of Thai culture. Claiming an entire peninsula and one of Phuket's finest white sand beaches, Amanpuri offers the idyllic Thailand escape of days gone by.
Overlooking the Andaman Sea, the resort's 40 guest Pavilions and 40 Villas (all with their own private chef, host, and swimming pools) are surrounded by lush gardens and coconut palms. Elegant dining venues offer authentic Thai flavors expertly prepared and bold, heart-warming dishes inspired by Italy's cucina semplice tradition. The bar provides poolside drinks and snacks, all open onto the central swimming pool with access to the secluded Panesea beach.
Amanyara – Providenciales, Turks & Caicos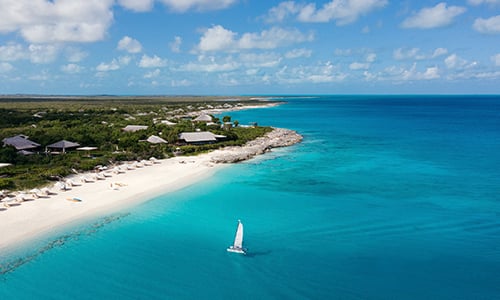 Amanyara is a secluded beachside resort situated on the northwest coast of Providenciales in the Turks and Caicos. Its name combines the Sanskrit-derived word for 'peace' with yara, the word for 'place' in the language of the Arawak Amerindians.
Overlooking a pristine one-kilometer white sand beach and the turquoise waters, Amanyara borders Northwest Point Marine National Park, acclaimed for some of the world's best wall and reef diving. The property enjoys a contemporary layout and design, with an Aman Spa, Beach Club, and Nature Discovery Centre. Thirty-eight timber-shingled guest Pavilions and 20 Villas are tucked along the coast or situated slightly inland overlooking tranquil ponds. Dining venues include a beach club located on the dunes, a magnificent restaurant with uninterrupted views, and a bar overlooking the ocean perfect for sunrise coffee and sunset cocktails.
Four Seasons Resort Bora Bora – French Polynesia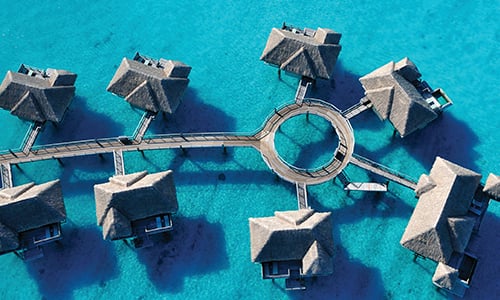 Four Seasons Resort Bora Bora, the gem of French Polynesia, offers an impeccable private island experience. With the recent completion of a property-wide renovation, the resort features enhanced beachfront villas and overwater bungalows with stunning views of Bora Bora's popular lagoon and Mount Otemanu. 
Natural coral reefs teeming with reef fish, blacktip sharks, and stingrays surround the private accommodations ensuring an exciting day on the water. Four Seasons Resort Bora Bora also boasts a state-of-the-art spa and offers in-bungalow dining or a magical evening at one of the resort's open-air restaurants. Among a number of notable accolades, Four Seasons Resort Bora Bora was recently named the top resort in French Polynesia in the 33rd edition of Condé Nast Traveler Reader's Choice. The resort was also named the #1 Hotel in French Polynesia in the 2020 Tripadvisor Traveler's Choice Awards. Ship your luggage and sporting equipment ahead of your arrival to enjoy bag-free travel to any of these world-class destinations. Please click here to learn more or here to receive a free quote.
Sea Island – Sea Island, Georgia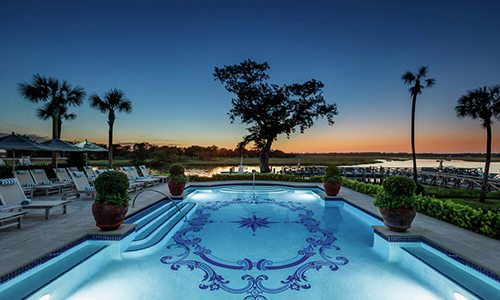 Since 1928, Sea Island has been known as an exceptional destination appealing to those who appreciate gracious service and heartfelt hospitality. Located on the southeastern coast of Georgia, Sea Island is a true Southern paradise surrounded by five miles of private beach, picturesque salt marshes, and an array of engaging experiences that are ideal for social distancing, ranging from tennis to horseback riding on the beach, falconry, and golf. 
Sea Island provides five resorts in one, truly offering something for every type of guest. The Cloister, The Lodge, The Cottages at The Lodge, The Inn, and Broadfield each have their own appeal without sacrificing any of the top-notch hospitality and service for which Sea Island is known. Forbes Five-Star experiences – The Cloister at Sea Island, The Lodge at Sea Island, The Spa at Sea Island, and the Georgian Room restaurant – entice families, couples, and those looking for exciting outdoor activities. Sea Island is a truly special destination, serving luxury, endless activities, tradition, and southern hospitality for all guests.
Timbers Kiawah Ocean Club & Residences – Kiawah Island, South Carolina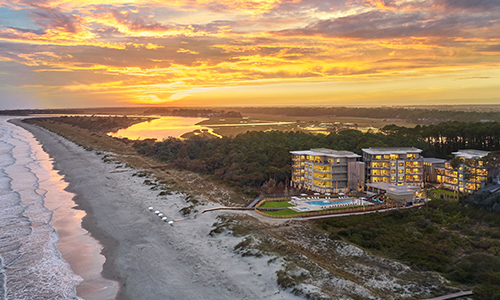 Escape to the Lowcountry effortlessly with a vacation home that takes care of you in an intimate, gated community. Enjoy the many splendors of Kiawah Island from the maritime forest, to the ten-mile stretch of beach. You are closer to everything you want. Listen to the soundtrack of surf, breeze, and birdsong playing back to you in the soft, slow cadence of the South Carolina Lowcountry.
Timbers Kiawah Ocean Club and Residences honors the rich architectural heritage of the area and is filtered through a contemporary design sensibility – with sweeping views, wide-open spaces, and a soft neutral color palette.
To learn more about ownership, click here.
---
Ship your luggage and sporting equipment ahead of your arrival to enjoy bag-free travel to any of these world-class destinations. Please click here to learn more or here to receive a free quote.