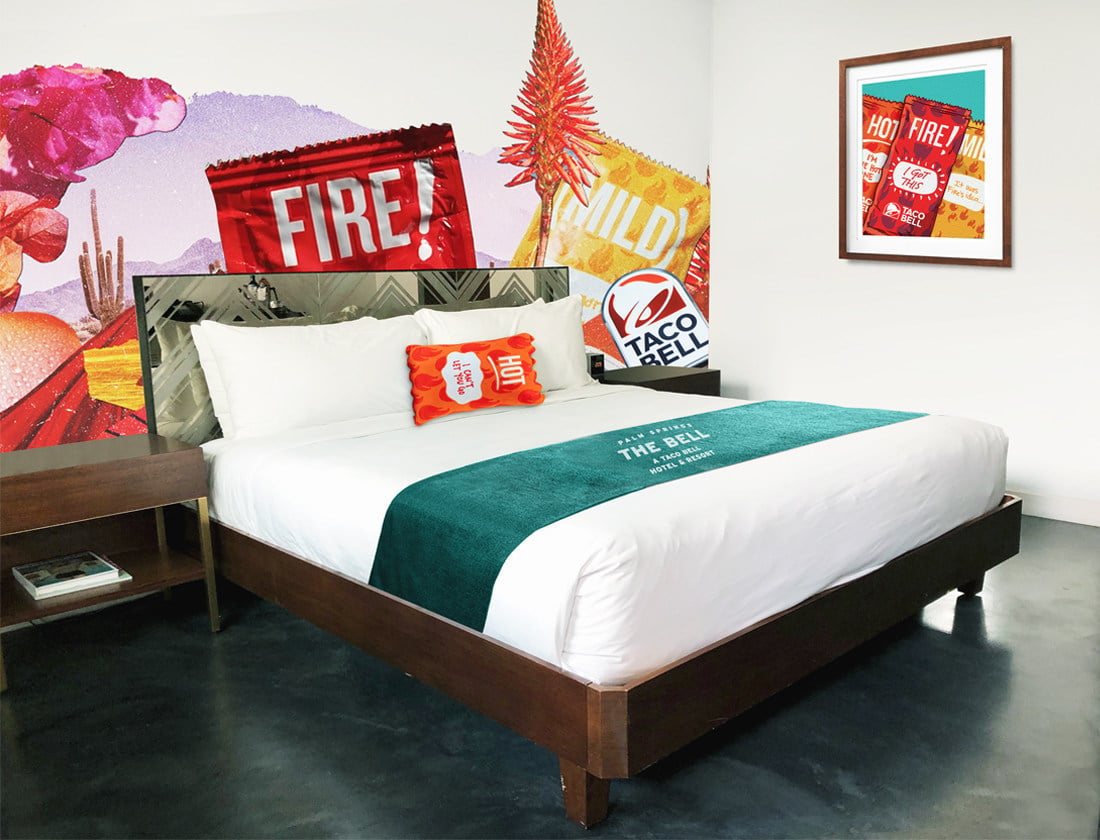 Posted June 27th, 2019
Taco Bell fans can check into The Bell hotel in Palm Springs this August
Instead of making a run for the border, Taco Bell fans will be running to Palm Springs this summer. The American fast food chain is dabbling in lodging this summer with a pop-up The Bell hotel.
Those lucky enough to snag the reservations available from August 8-12 will encounter the ultimate taco-inspired getaway. The company completely decked out an existing hotel in Taco Bell theme, set against a Palm Springs desert background. It boasts more than 70 rooms with four room types: one king bed (standard view), one king bed (pool view), two queen beds (standard view), and two queen beds (pool view). Pricing starts at $169 per night. Space is limited and rooms will be available to Taco Bell super-fans on a first come, first serve basis. You can score a spot on the waitlist if you missed the initial booking frenzy. This experience is meant for our 18 and over fans, so plan accordingly.
Accommodations
Every element of the property will bring to life the Taco Bell brand (think hot sauce packet-shaped pillows) and lifestyle — from guest rooms, the pool and outdoor bar, to a twist on the standard hotel amenities (Taco Bell breakfast in bed anyone?)
"The hotel draws on Taco Bell's vibrant palette to create a unique and flavor-filled destination that is the ultimate expression of the brand, unlike anything the brand has done before," says Taco Bell's Senior Director of Retail Engagement and Experience, Jennifer Arnoldt, "We're excited to give a peek into Taco Bell's first hotel that is truly Taco Bell luxury at a value as we evolve how fans can celebrate with the brand this summer and beyond."
Food and Amenities
The Bell will serve up an array of food, entertainment, activities and much more. No two days will be the same. The hotel will feature performances by Feed the Beat artists, dive-in movies, and a "Freeze Lounge," inspired by Mountain Dew Baja Blast, which will offer frosty beverages and a chill lounge. Guests can enjoy Taco Bell's version of a poolside resort menu in addition to exclusive Taco Bell menu items that will make their debut at The Bell.
Guests can also get their resort style in check at the salon. Stylists will be on hand to offer Taco Bell-inspired fades, braids at the braid bar, nail art, and more. Those who need to pick up a souvenir or supplies can stop by the Taco Gift Shop. Taco Bell is stocking the boutique with everything from swimsuits and Sauce Packet chargers to exclusive apparel.
The Bell Hotel, 333 E. Palm Canyon Drive in Palm Springs, California
photo courtesy of Taco Bell Corp.