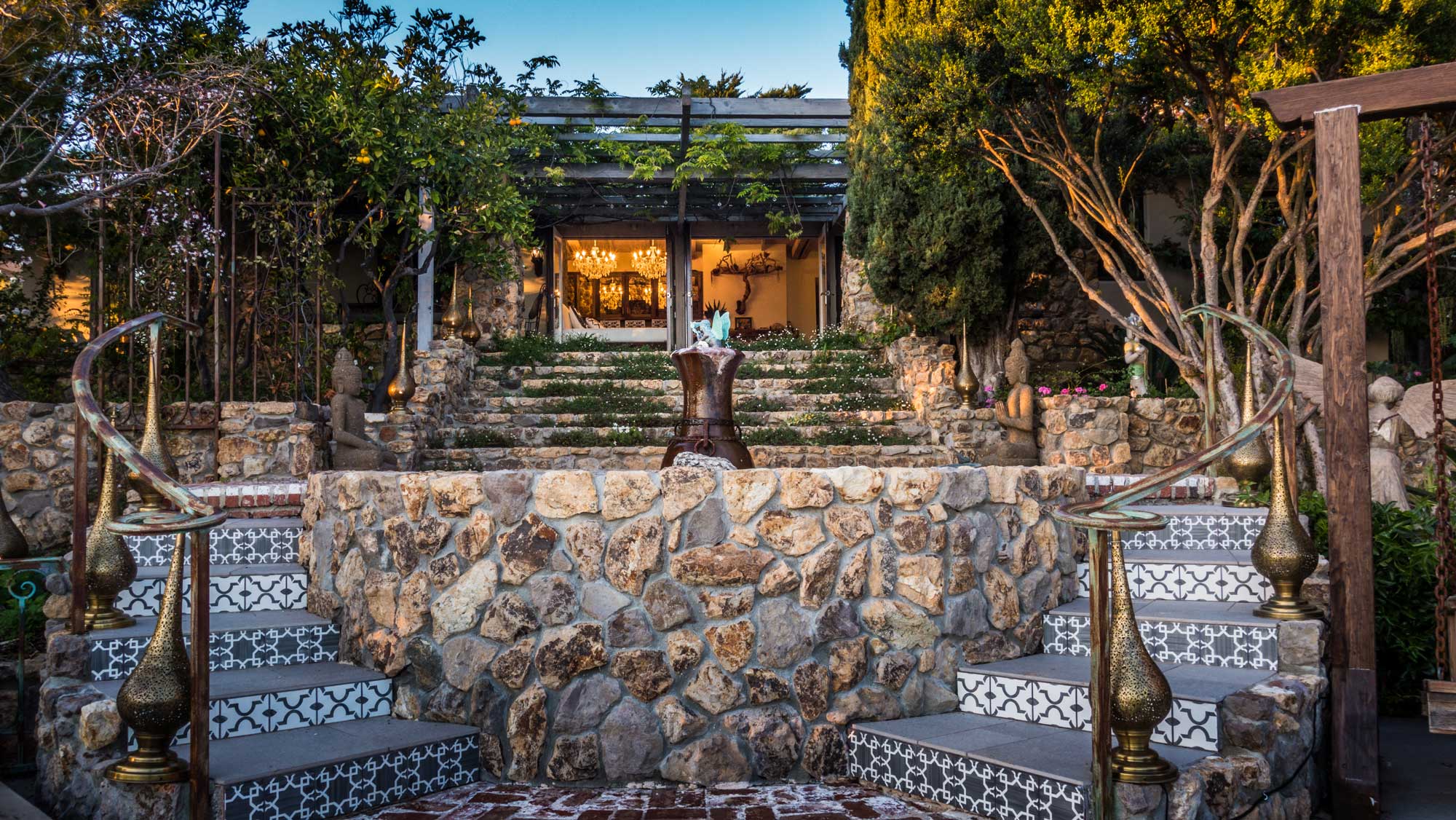 Posted September 12th, 2016
The road to Aja Malibu is windy — one that mystifies even the most sophisticated GPS systems. Perhaps they meant for it to be that way. When you arrive, you are urged to disconnect from the outside world (i.e. deposit your electronic devices at the door) and let your healing begin.
The $10,000 per-week, seven-bedroom luxury-boutique mountain retreat for the health and wellness-seeking connoisseur sits on a 23-acre property off Latigo Canyon Road in Malibu. It opened in August after an eight-year renovation; the site formerly housed a property President Roosevelt built in the 1940s. It boasts expansive mountain vistas, reaching all the way to the Pacific Ocean. Once you step foot on the grounds, its energy envelops you and you're ready to begin your journey. Find out what's in store.
Aja incorporates deep earth wisdom with ancient teachings from around the world to create its signature residential program, "The Magick Process." This immersive mind-body-spirit tune up and restorative cleanse is designed to support the re-alignment and balancing of the body's seven energy systems known as "chakras," and reconnect people to the beauty, magic and mystery of life.
Aja Malibu is a lifelong dream for its owner, Australian mystic and artist Inannya Magick, who spent seven years transforming the property into the lush sanctuary that boasts seven guest rooms, seven gardens that you can take advantage of during a seven-night stay.
The Program
Each day you will participate in a mix of daily wisdom workshops, tea ceremonies, edible garden tours, experiential nature exercises, fire and moon ceremonies, meditation and daily hikes in the local canyons. Your morning begins with the wake up bell and special chakra tea and supplements waiting for you at your door. You'll then enjoy a berry detox shake before a two-hour hike followed by fruit and chia pudding or a nopale smoothie. You have time to relax in the afternoon where you can enjoy spa treatments or sun worship by the pool. The evening brings more ceremonies and storytelling before it's time to retire at 10 p.m.
Plant Based Cuisine
You will not go hungry at Aja — even on a diet comprised completely of live plant-based, biodynamic, garden-to-table cuisine. Recipes are formulated to be nutrient dense and high vibrational, combined to form the the "Aja Chakra Tune Up Diet," a low glycemic, gluten, wheat, dairy free, low nut based program that supports a cleanse and detox all while nourishing your body. Expect results that range from mental clarity and weight loss, to brighter eyes and improved sleep. Aja is able to harvest all their ingredients from the property's biodynamic vegetable and medicinal herb gardens. Their ingredients also form the bases for Aja's herbal infused olive oils, vinegars, green powders, herbal salt blends and fermented foods like sauerkraut.
Spa
Part of the amenities of staying at Aja is the opportunity to have up to three spa treatments per day. The on-site spa offers an infrared sauna, ozonated Jacuzzi, cold plunge pool and dual vibration machine. Aja is in possession of one of two Tesla energy lights in the U.S. and they are utilized in a treatment that combines John of God Crystal Lights and Binaural Beats. Also find more familiar treatments like herbal massages and facials that utilize herbs and plants found in the garden.
Gardens
Aja's Magick Gardens are seven individual plots that are themed to your body's chakras. Stroll through them and find more than 200 fruit tress, herbs and crystals both hanging in the trees above your head and buried in the soil under your feet. You can also take part in one of the edible garden tours, tea ceremonies and other rituals that take place there.