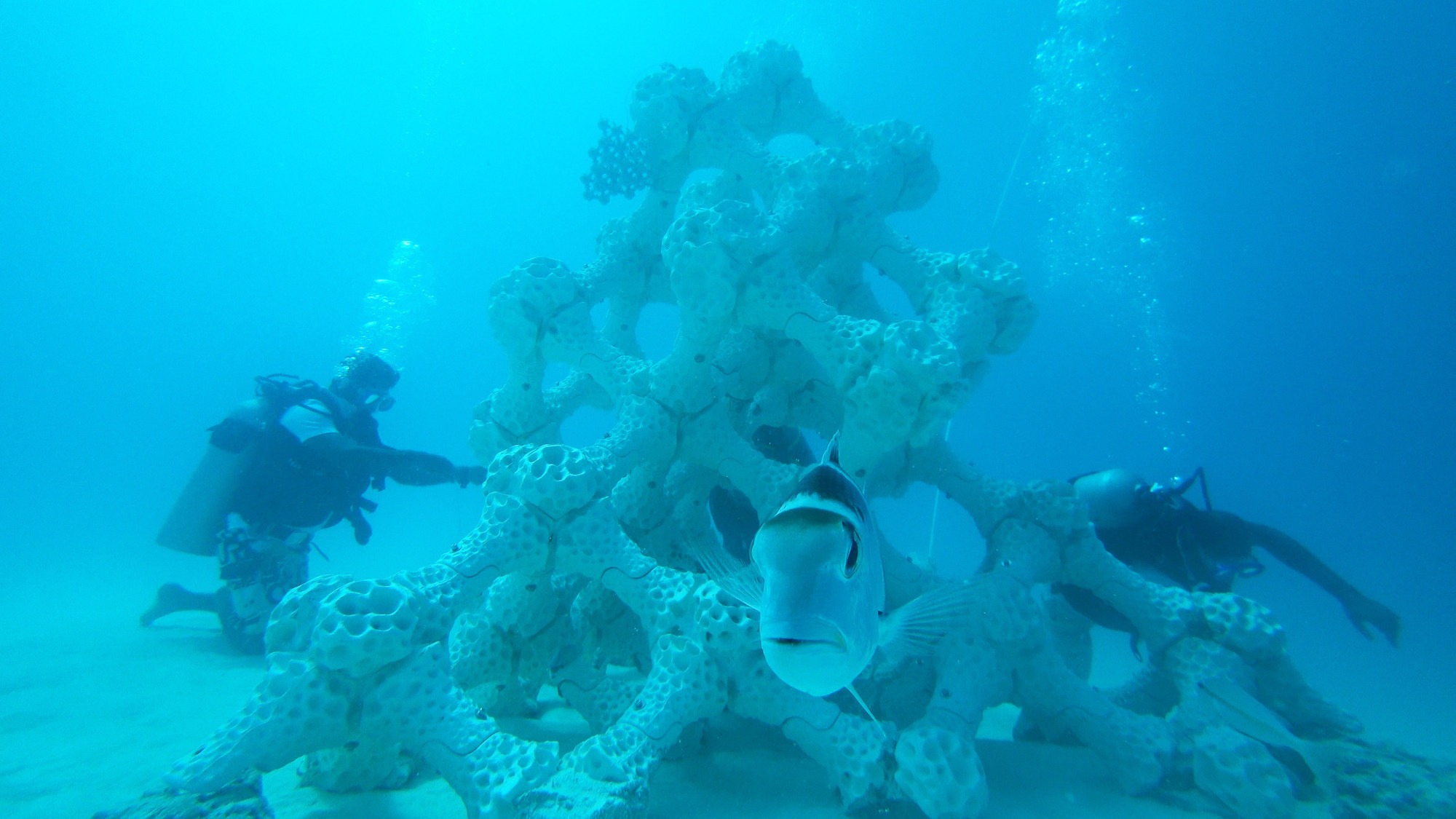 Posted August 6th, 2018
At a Summer Island Maldives, which bills itself as an escape "where dreams replace reality," the future is coming to life under water.
The luxury resort that boasts both on-land and over-the-water bungalows just submerged the world's largest 3D printed coral reef in what they hope could be a new way to help coral survive climate change. The Maldives is one of the world's most climate-vulnerable nations. Rising sea temperatures threaten the world's coral reefs, and mass bleaching events are becoming more common and more severe. The conservation project is underway at Summer Island's Blue Lagoon, a sandy underwater spot that is hospitable to creating a new coral reef system.
The reef is comprised of 220 ceramic, concrete filled moulds slotted together like Legos. They are the brainchild of industrial designer Alex Goad from Reef Design Lab in Melbourne, Australia. The 3D printer in his lab ran for 24 hours to print the molds for the reef structure. Then they were shipped to the Maldives to be filled with concrete and finally submerged.
The manufactured reef also serves as a structure to stimulate growth of natural coral. It is submerged in about 30 feet of water next to the resort's coral nursery. In this hospitable environment, parts of the natural coral from the nursery are being transplanted onto the 3-D reef where they will continue to grow and spread on the structure. In a year or two, when the corals have grown over the 3D reef, the resort hopes to have a new, natural looking reef, teeming with fish and marine life.
"3-D printing technology helps us to develop more innovative ways of protecting coral reefs," says Goad. "The technology allows us to mimic the complexity of natural reef structures, so we can design artificial reefs that closely resemble those found in nature. We hope this will be a more effective way of growing and restoring corals."
This isn't the first sustainability project Summer Island Resort has taken on. It has implemented a slew of new initiatives like the adoption of solar energy, a ban on the use of plastic straws, phasing out imported drinking water, and coral conservation projects.
"Projects like the 3-D printed reef are popular among guests, who like that we protect our environment," says Summer Island Resort Manager Mari Shareef. "And it's not only for the guests. Our staff, most of whom are Maldivian, want to protect their environment. Ultimately, we want to help promote a culture of environmental stewardship, not just at Summer Island, but across the Maldives."
Photo: PRNewsfoto/Summer Island Maldives