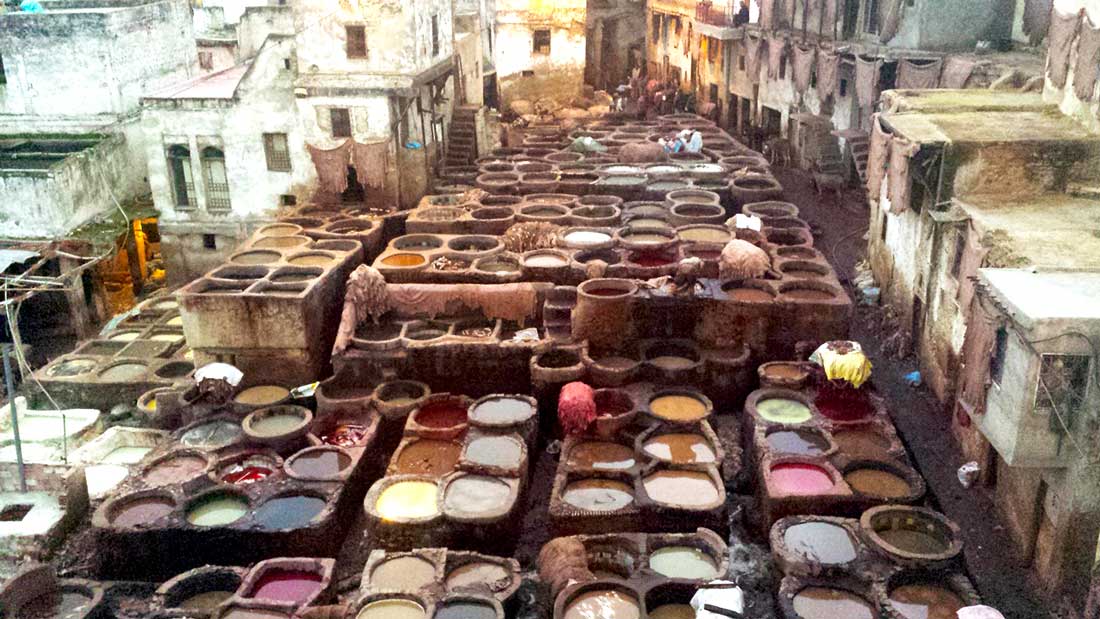 Posted March 15th, 2016
Visiting the Northern African country of Morocco is a playground for the senses. Whether you're in the labyrinth of streets that make up Fez's Medina, or the narrow cobblestone alleys of Marrakesh, you will have no shortage of stimuli to gawk at, smell and eat. The country's souk culture thrives nearly everywhere and traversing the local markets is one of the best ways to put your finger on country's pulse. It's best to have a game plan for what you want to buy and how much you want to spend, as merchants are extremely motivated and persuasive. Here are the top five things to bring back from Morocco and where to find them.
Berber Rugs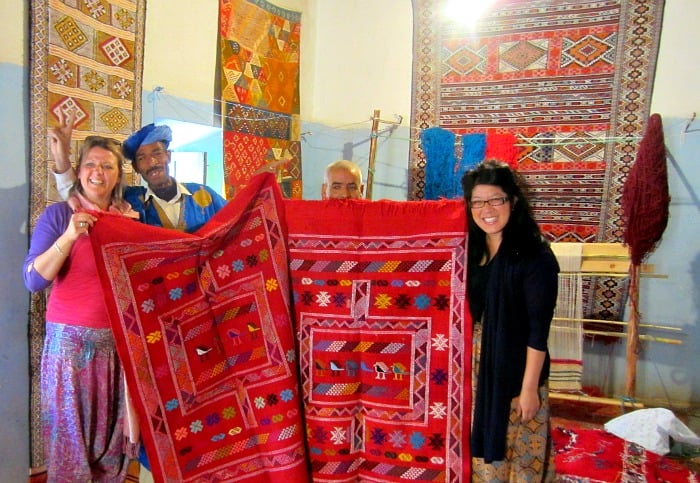 It's a familiar scene: you befriend a local—he might even be your trusted tour guide—he invites you to his friend's shop for some tea and before you know it you're sitting in a back room, sipping the sweet minty goodness and presented with an array of intricately patterned Berber rugs. "They're made by hand" he says and whips out a photo of a woman weaving the textile. It's easy to get caught up in the moment. These exquisite woolen rugs would look perfect in any room of your house and (let's face it) you're not walking away without one. Before you get hustled, shop around. Get an idea of the design and price of a potential rug, and make sure you're getting one made of natural fiber and not synthetic (hint: a synthetic rug's tassels will catch on fire); then get ready to deal. This goes for all bargaining in Morocco: Have your top price in mind and try to offer much lower. Don't be afraid to walk away if you aren't making progress with your negotiations. You'd be surprised how motivating the simple act of walking away might be. If you aren't up for haggling, the fixed price market in Marrakesh has an array of high quality carpets offered at reasonable prices with a hassle fee shopping experience. Full-size rugs are cumbersome to travel back home with, so check into shipping luggage internationally to free up your load.
Leather Goods
You're likely to splurge on a variety of souvenirs, so why not pick up a piece of luxe leather luggage to put them in? Moroccan leather is high quality and world-renowned. Chouwara tannery is tucked into the maze of streets in Fez's Medina. It's been there since the 11th century and processes cow, goat and sheep skins, drying them on the surrounding walls and dying them in circular baths of dye in hues of red, green, indigo and yellow. Visiting the tannery is a harrowing experience—at least for your olfactory senses. Your guide will pass you a handful of herbs to keep by your nose. Don't pass these up. After you've witnessed the process, you can browse through floors of travel bags, purses, backpacks, jackets, shoes and more. Make sure to inspect your goods before buying. If you notice an odor, move onto something that isn't quite as offensive. It's not likely you'll be able to make it smell any better.
Tagine
It's impossible to leave Morocco without eating a tagine and indulging the impulse to buy the authentic clay cooking vessel, which is sold everywhere. They normally sell for five times the price domestically. If you're planning on shipping luggage home there's no reason not to indulge your impulse to pick one up. The only thing left to do is observe and pry some cooking techniques from a local chef.
Spices
When you're meandering through the souks in any city, it's hard to ignore the vibrantly colored mounds of Ras el Hanout, paprika, harissa, tumeric, cinnamon and cumin. This is a place where it's easy to indulge. There is no restriction on bringing dried spices back to the U.S., as long as your haul doesn't include any citrus, citrus leaves or seeds. To enjoy your spices at their peak, make sure to use them within six months.
Argan Oil
If you look at your Moroccan Oil beauty products, you most likely think that they contain rich, luxurious argan oil, but more often than not, you'll only find filler. Now that you're in Morocco you can go straight to the source. Argan oil is derived from the argan tree that grows in southwestern Morocco's Sous Valley. You can buy the oil in it's pure form in either a culinary grade (perfect for cooking and drizzling on dishes or for dipping bread), or cosmetic grade for using on your hair and skin.