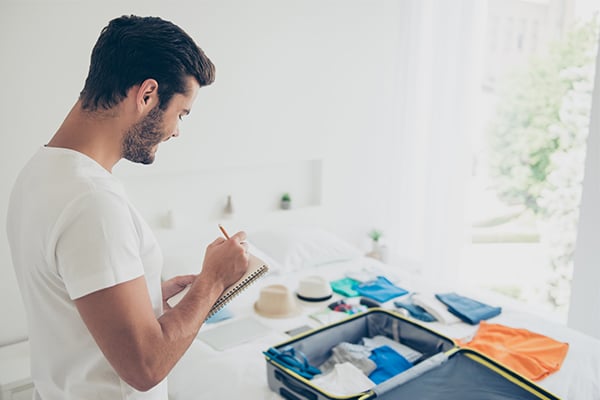 Posted January 7th, 2020
Before you head out on your next adventure do it the Luggage Free way! From shipping your luggage to maximizing your space and time, take a look at our top travel hacks for 2020 so you can be prepared on your next trip.
1. Ship Your Bags
Take advantage of the easy-to-use service that Luggage Free offers. From the white glove customer service to the stress-relief on your travel day, it's worth every penny. From the moment you place an order, you are considered one of their own. Their service is offered to and from cruise ports, hotels, resorts, airports, your residence, and business. The team at Luggage Free tracks your bags through delivery to ensure a safe and on-time arrival of your bags.
2. Make A Packing List 
Before you begin packing, we recommend sitting down and creating a packing list. Start with jotting down all of your plans for your trip. From your travel day to planned tours and dinners, every occasion could require different types of clothing or essentials. After your clothes and shoes are covered, move to the essentials like your electronics and toiletries for the carry-on.
3. Wear Bulkier Clothing on The Plane
Whether you are heading to somewhere cold or to a tropical climate, you'll want to pack accordingly. Try to wear bulkier clothes on the plane, so you'll have more room in your luggage.  You'll end up saving a lot more space than you thought in your suitcase, allowing room for smaller to medium items.
4. Print All Itineraries and Confirmations
We can't always rely on technology, especially because it always seems to go wrong when we need it most. While saving your plane ticket and hotel confirmations to your wallet on your phone is ideal, it's always best to stick to the old-school way as back up. 
Print out two copies of your passport, itineraries, plane tickets, confirmations for hotels, tours and day-trip adventures. Keep one set in your carry-on, and give the other set to your travel companion.
5. Pack an International Adapter in your Carry-On
Pack an international adapter in your carry-on if you're going abroad. While most hotels and resorts have compatible adapters, a handful still only have their typical one, which in most cases is different than what you are used to in your home country. It's always best to look up the type of adapter for the country you are headed to ensure you have the correct adapter for your trip.
6. Layout Everything Before Packing
Before you throw everything into your suitcase, it's best to lay it all out by category. Overpacking is very easy to do, especially when the weather is questionable. By laying every item from your shoes to your shirts out, you'll be able to dwindle down the essentials.
7. Use Packing Cubes
Maximize your space in your suitcase by using packing cubes. These can be purchased in a variety of sizes ensuring that all of your clothing and essentials will be accounted for and organized.
And, don't forget to keep the like-items together so you know which cube contains what upon your arrival to your destination.